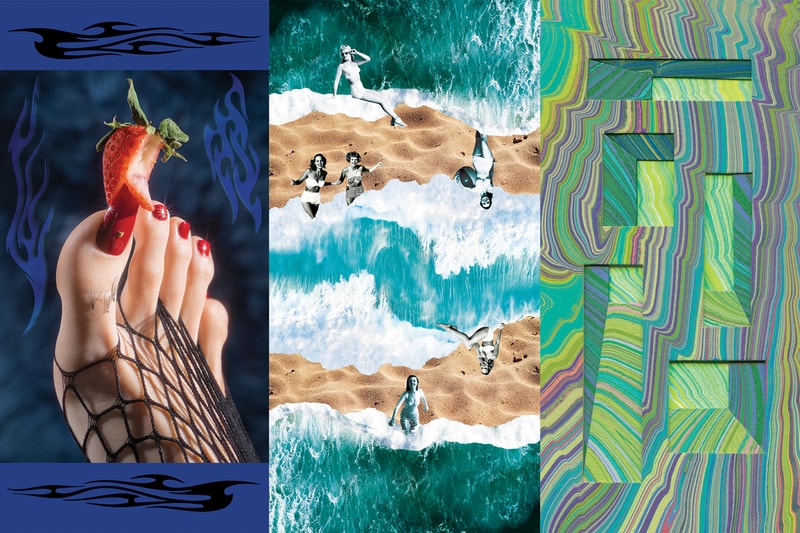 Artist and founder of NYC-based Selena Gallery, Selenas Mountain, is curating a forthcoming group exhibition that features a selection limited edition beach towels made in collaboration with leading visual artists.
The show is part of an ongoing installment entitled "Sapphire Pools" with the latest edition featuring original artworks by Ryan Travis Christian, Dalia Amara, Katie Buckleitner, Lauren Clay, Alexander Deschamps, Carlos Jaramillo, Anjuli Rathod, and Josh Reames. Highlights include Travis Christian's 'Might Go On Vacation' design that features a monochromatic composition starring Tom Cat from 'Tom & Jerry,' Clay's vivid geometric visuals for her 'I could be dreaming' artwork, and Buckleitner's 'Hot Girl Summer' beach towel that features surrealistic scenes of female subjects swimming in ocean waters.
"'Along a River of Sapphire Pools 3' takes its title from John Cheever's 1964 short story The Swimmer. This suburban story takes place in one afternoon following Neddy Merrill who swims all of his neighbor's pools forming his own eight-mile river which he names after his wife," said Mountain in a statement.
The show will run through August 11-25 at Selena Gallery located in NYC's Ridgewood neighborhood. Select towels can be purchased on SapphirePools.com for $130 USD.
Elsewhere, take a look at this week's Best Art Drops.
Selena Gallery
37 Troutman St.
Brooklyn, NY 11206
Click here to view full gallery at HYPEBEAST