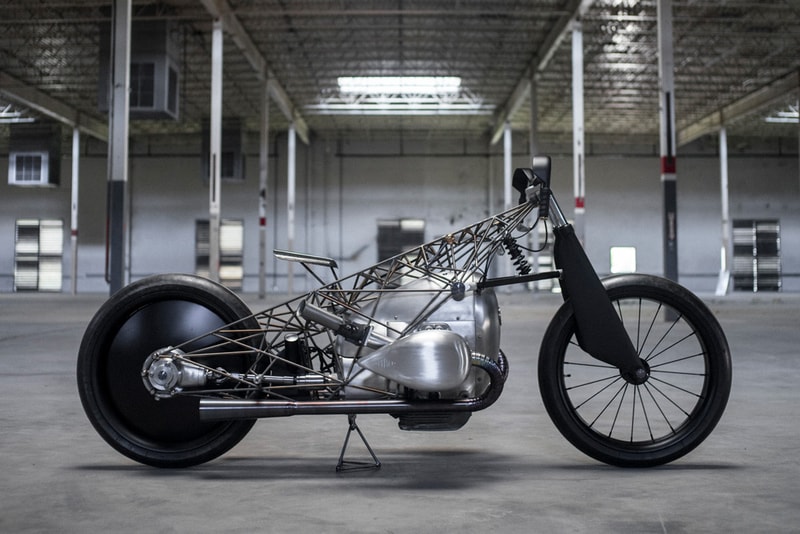 American Revival Cycles have presented their take on BMW's Motorrad boxer engine via a custom titanium bike, dubbed the "Revival Birdcage," unveiled at the Handbuilt Show in Austin, Texas last week. The American motorcycle customizers — which marks the second group in the world to build a prototype based on the Big Boxer — were inspired by Ernst Hennes' "record-setting machines from the late 1920s and early 1930s," according to BMW.
"We had already dreamed about this bike for years and in December 2018 we received the engine and could finally get to work. I have always been a fan of the boxer engine, but the pure physical size and aesthetic appeal of this prototype really inspired us," explained Alan Stulberg, head of Revival Cycles.
It took the company six months to build the vehicle, which was constructed with intricate webbing on the body to create a "transparent" geometric design. The various visible components, including chrome-plated protection ducts, recall the BMW Motorrad boxer engine from the 1960s. Meanwhile, new details such as air-oil cooling and a larger cubic capacity offer modernized touches. Other parts of the model were also individually crafted by Revival Cycles, including the handlebars, footrests, shift lever and seat.
"This was our first time to build a frame with titanium, that alone was already a significant challenge. Regardless, the frame came together very well in the end and it accomplished the goal of being nearly transparent. We wanted to focus attention on the engine and that is precisely what we achieved with this completely unique frame. You can easily view the engine and the drivetrain from all angles," said Stulberg.
The first custom bike built around the BMW Motorrad boxer engine, entitled the "Departed," was revealed in December 2018 by Japanese brand CUSTOM WORKS ZON.
For more automotive news, read about Bonhams upcoming auction on more than 400 vintage motorcycles.
Click here to view full gallery at HYPEBEAST