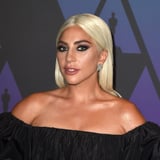 It looks like Lady Gaga will be kicking off her Las Vegas residency with a brand-new hair color. Would you expect anything less from the reigning queen of switching up her beauty looks? The 32-year-old entertainer just dyed her hair the dreamiest shade of lilac, which is shaping up to be one of the hottest colors of 2019.
Gaga's fiancé, Christian Carino, gave us the first peek at her fresh look by sharing an Instagram photo of her posing in front of a fountain. In the snap, the singer's light-purple hair appears to fade into a dusty blond hue, which is a pretty big change from the platinum blond she's been rocking lately. The dye job was likely done by her go-to hairstylist, Frederic Aspiras, though he has yet to confirm it on social media.
Keep reading to see how Gaga's hair has changed over the past few months, and you just might feel tempted to snag a ticket for one of her residency shows just so you can admire her pastel purple hair in person.
Source: POPSUGAR Beauty