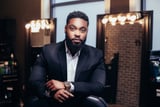 A person can lose up to 50 to 100 strands of hair per day – that's normal. Hair loss, however, is when you lose more than that amount, manifesting in the form of bald patches and male- and female-pattern baldness. Eighty million Americans experience this, according to the American Academy of Dermatology, and for women, there are a plethora of options: extensions, wigs, and weaves (Zendaya can tell you what each of these are), all of which can create the illusion of longer, thicker hair. But for the most part, men are left out of the conversation.
Wade Menendez saw this gap in the hair industry as an opportunity. He came out with "weaves for men" or hair units, which are cranial prostheses that can hide areas of hair loss. "It's basically a hair piece that's attached to the head by either adhesive, bond, or sewing method," Menendez told POPSUGAR. "It's similar to a toupee, but there are other variations and ways to accomplish that look without an actual toupee. It's all about how you cut and style it." These hair pieces can be used on all hair textures.
He admitted that he isn't the first to create hair units for men, but that it was "kept pretty quiet," Menendez said. "There have been barbers and stylists that have been doing some of these techniques for many years." He said that it initially took three hours to install the weave on each person, but he's cut that time in half because of the demand for his hair unit. "I do seven to 10 people each day, and it pushed me to get faster and develop my timing."
Menendez's pieces can last anywhere from two weeks to a year, depending on how you maintain and style the hair. "Maintenance is needed with it in order to keep it looking fresh," he said. (That entails coming in for a scalp cleanse – and who wouldn't want to come in for a quick scalp-refresh sesh?) Menendez's hair units are making it possible for men to have the head of hair that they want for longer, and that's visionary.
See the transformations ahead.
Source: POPSUGAR Beauty