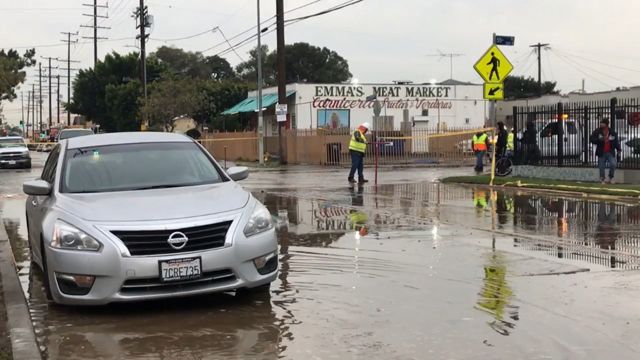 Crews from the Los Angeles Department of Water and Power have shut down a leak that resulted from a break in a water main in South Los Angeles early Friday morning. The burst 24-inch main resulted in street flooding and street closures in the South Park neighborhood.
The shut-down process for the pipe had to be done carefully to avoid damaging other pipes in the area. Seventy-five LADWP customers in the area were without water as a result of the burst main. Crews are working to restore service as quickly as possible. 
LADWP is working with other city agencies to rework traffic in the area with 55th Street and 56th Street still closed to traffic between Main and Avalon.
The street flooding was first reported to the Los Angeles Fire Department about 4:55 a.m. at 55th Street and Towne Avenue. With no injury or immediate structure threat, LAFD turned scene control over to the Los Angeles Department of Water and Power.
LAFD was called back to the scene at 7:20 a.m. to assist with the movement of more than a dozen nearby residents as rising water levels began to threaten several homes in the area.
Crews were sent to fix the cast-iron water main, the LADWP reported.
It was not immediately known how many customers were affected.
No injuries have been reported but a structure/utility assessment determined that property damage did occur as a result of the leak.
City News Service contributed to this report.
Source: "Los Angeles" – Google News