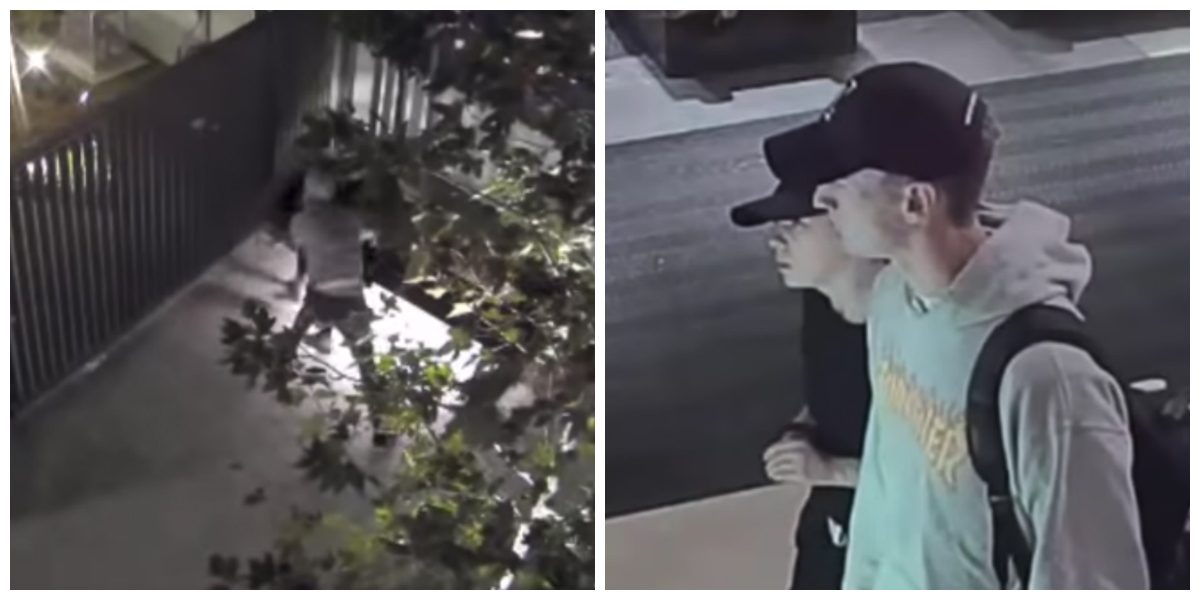 A video showing a man fatally assaulting a homeless person in downtown Los Angeles was released by the Los Angeles Police Department on Dec. 19 in the hopes that individuals from the public can help to identify and locate the suspect.
The graphic video, which was recovered from several businesses and edited by LAPD, captured the suspect stabbing a homeless person multiple times, as well as pictures of the suspect before and after the incident.
The police report said the incident occurred in the area of 9th Street between Hope Street and Grand Avenue on Nov. 6 around 8:30 p.m. The 58-year-old victim, Fernando Perez, was later hospitalized in California Hospital Medical Center. He died two days later due to the injuries sustained.
Perez was seen in the video sitting on a bench before the suspect walked up to him and suddenly stabbed him. The suspect kept stabbing Perez several times as Perez lost balance and fell down on the ground.
The suspect was seen fleeing the scene after picking up a black backpack, which police have been unable to verify if it originally belonged to Perez or that Perez had taken it off the suspect.
"We're still investigating robbery as a potential motive," LAPD homicide detective Jason Sharman told KTLA. "There was no particular exchange or interaction between the two."
The authority describes the suspect as a white male, 25-35 years old, approximately 6 feet and 3 inches tall, of a thin build with brown hair. He was wearing a grey-hooded sweatshirt with "Thrasher" written across the chest, jogger-type pants, and black shoes with white soles when the incident happened.
Under the grey-hooded sweatshirt, the suspect appeared to be wearing a white t-shirt with an unknown type of logo on the front, a purple or light blue hat with a white logo, carrying a backpack with what appears to be a luggage tag attached, the police said.
There also was a female in the video companying the suspect before and after the murder. She is believed to be a white female or a short, small to medium build with brown hair tied in a ponytail. She was wearing a black long sleeve shirt, black pants with white stripes, a dark colored hat, white shoes, and carrying a black backpack.
In addition, the LAPD mentioned there was a vehicle that might be related to the incident. The vehicle was said to be a lime green 2013-16 model Chevy Spark with Florida license plates. Officials said it wasn't clear if the suspect left in the vehicle, KTLA reported.
Authorities have offered a $50,000 reward for tips leading to the capture and arrest of the suspect who killed Perez.
Anyone with information is urged to call Central Homicide detectives at 213-996-1878. During non-business hours or on weekends, calls should be directed to Central Area Watch Commander at 213-486-6606. Calls may also be directed to 1-877-LAPD-24-7 (877-527-3247).
Anyone wishing to remain anonymous should call the LA Regional Crime Stoppers at 1-800-222-TIPS (800-222-8477) or go directly to www.lacrimestoppers.org. Tipsters may also visit www.lapdonline.org, and click on "Anonymous Web Tips" under the "Get Involved-Crime Stoppers" menu to submit an onlinetip.
Source: "Los Angeles" – Google News