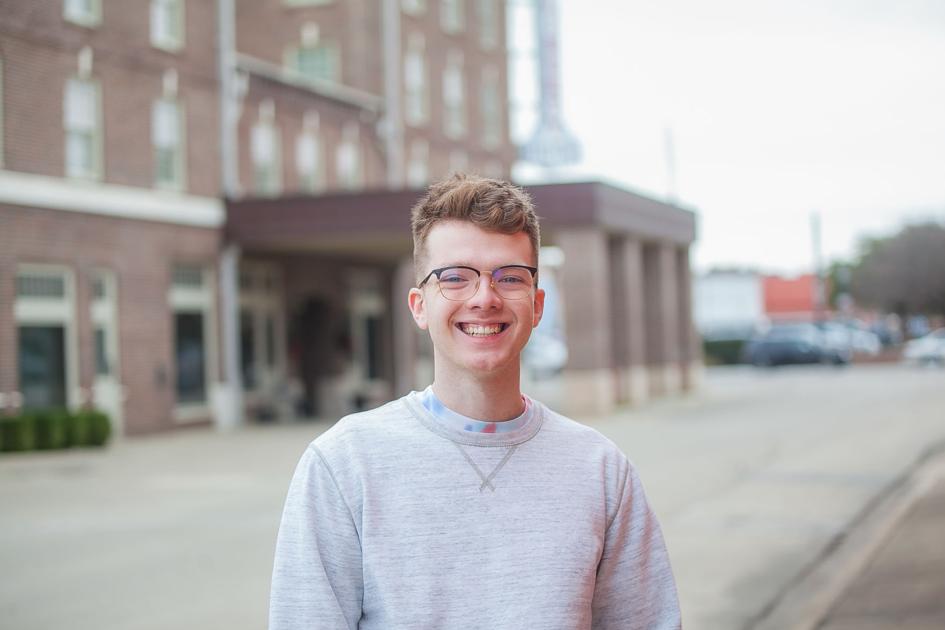 Although he's no fan of the word it fits the situation, Cleburne native Chandler Cooper joked when asked what music means to him.
"I really enjoy seeing people vibing out to my music," Cooper said. "I hate that word, vibing. But I really enjoy hanging out with people and playing music and they're like, 'Whoah! Is that you?'
"I love that experience of putting something out there and hopefully seeing people get enjoyment, something good out of it."
Cooper, 20, may have started in Cleburne, but he's traveled far in hopes of realizing his musical dreams.
"It's a different world in Los Angeles," Cooper said. "Back in Cleburne sometimes I liked to just clear my mind by driving the back roads. I'd head out Nolan River out to the back roads and just drive around listening to music. You can't do that in L.A. because there are no back roads. You'd have to go to Nevada. That's what people do sometimes, go out to the desert."
Cooper, who's in town visiting family through Christmas, admits that the move from Cleburne to L.A. resulted in culture shock.
"It has pros and cons and L.A. is super hectic," Cooper said. "Everybody's out for that same piece of meat and you really can't trust anybody. The first time I went out there was for a week and I thought, 'Wow! This is so cool.' Then I went for a month and was like, 'This is different.'"
Cooper's mother, Sherry Cooper, admits to reservations but said she supports her son's dream.
"L.A. is kind of a scary place," Sherry Cooper said. "But it's also a place where doors can open and opportunities can come that he's not going to get here. So we're supportive of him."
Cooper, who describes his sound as a mix of hip hop, rap and pop, credits his mom for inspiring his musical interests.
"I remember always singing as a kid just while combing my hair and getting ready for school and stuff," Cooper said. "But my real interest in music came because my mom was obsessed with Journey so I started listening to them and having conversations with her about music and all."
Guilty as charged, Sherry Cooper said. 
"I've always been a huge Journey fan, especially the Steve Perry years," Sherry Cooper said.
She, however, credits Cooper's musical inclination to his father.
"His father was in a band, rock 'n' roll band as the lead singer when he was younger," Sherry Cooper said. "So Chandler gets it from his side of the family and is kind of hoping to fulfill his dad's dreams in a way."
Either way, Cooper said he's thankful for the support he's received from both parents.
"Through them I saw how much music can open and light people up on a bad day and just wanted to get behind it and start doing that," Cooper said.
Sherry Cooper said she noticed her son's talent early on.
"When he was about 4 and would sing around the house we started to notice and were amazed how well he could stay in tune and hit pitches," Sherry Cooper said. "Then later in middle school he was in choir and really began to develop his talents."
Cooper said he used to enter talent shows while attending Cleburne schools dressing up to dance and sing like Michael Jackson in addition to school choir.
"The thing is, no one ever really heard me sing too much other than the people in choir and all," Cooper said. "But my junior year of high school we went camping and were sitting around a campfire under a bridge. My friend had his guitar and we just kind of sang around the camp fire and since then I've never been nervous to sing in front of people."
Cooper joked that his musical endeavors are confined solely to writing and singing.
"I can't do any instruments," Cooper said. "I'm awful at that. Oh I've tried. I've tried so hard. I can do maybe two songs on the piano and not that good. I have friends who can play. I'm so jealous of those people."
Fortunately, for Cooper, he met Jayden Grey through a mutual friend, which led him to Los Angeles. Grey plays as well as writes and produces music.
Dreams harbored by musicians galore pre internet of securing a record deal are old hat, Cooper said. At least for now.
"We're in a social media age so it's easier to dream chase just by using social media like YouTube and everything," Cooper said. "A lot of big people blew up that way like Post Malone. He's from Texas and he blew up on SoundCloud.
"So, for now, I'm just out in L.A. making music and pushing it out on social media and not necessarily looking for a record deal. Once I can bring more to the table then I'll think about that."
So far, he's digitally released a few singles, an album and his latest single, "Used To," which came out Nov. 20.
"Even though it's the digital age now we still call them singles, EPs and LPs, which is cool to me," Cooper said. "I'm on SoundCloud, iTunes, Spotify, Alpha Music under Chandler Cooper."
The creative process varies.
"I had one song that took three months to make but then "Used To" took about three days," Cooper said. "So it just depends."
The odds of success give pause, Cooper admits but said he remains undaunted.
"I'm not going off a timeline necessarily," Cooper said. "I'm just working on consistently pushing music. Every month I want to release a new single and see how that goes. There's not much of a timeline because I feel, in Los Angeles especially, if you set yourself up with a timeline you're setting yourself up for failure. If you give yourself a year to accomplish all this stuff or say you have to be signed in a year. Well, the next thing you're pushing yourself into a record deal just to keep up but the record deal ends up screwing you over so I'm just going with the flow. You can blow up tomorrow. You can blow up in 10 years. You never know."
Visit Cooper's Instagram at @chadlercooper. He has about 17,000 followers.
Source: "Los Angeles" – Google News