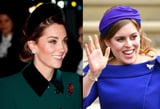 Headbands definitely had a moment in 2018, and if the royals (oh, and Chrissy Teigen) have anything to do with it, they aren't disappearing anytime soon.
The style isn't only pretty, but it's also practical. It keeps hair off the face (which is perfect considering some royals are prone to hair touching) and looks elegant for royal engagements and celebratory occasions. From velvet to floral to beaded, they have tried them all.
Read on to see the best royal headband moments so far, but be forewarned: they might tempt you to dig out your old-school versions and maybe even invest in some new ones.
Source: POPSUGAR Beauty