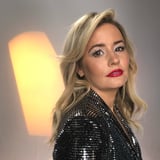 Lady Gaga always keeps us guessing. Whether it's announcing a residency in Vegas – aptly named Enigma – or showing off her acting chops in a little film people have been raving about – A Star Is Born, maybe you've heard of it? – she's not one to keep people feeling like they know what's next for her. That's why her legions of fans adore her. (Myself included – little Monsters unite.)
On the beauty front, we at POPSUGAR love covering Gaga for this reason as well. From hair bows to smeared face paint and makeup-free to sequined appliqués, we love learning everything about the art she decides to cover her face and body with. Most notably, her longtime makeup artist, Sarah Tanno, who is the global artistry ambassador for Marc Jacobs Beauty, has been the one tasked with creating and ideating these looks with the Haus of Gaga team. Tanno is quick to explain that everything is for Gaga; as an artist, it isn't about her, it's about working with her hairstylist and wardrobe stylist to create a look, that, of course, is helmed by Gaga.
When asked about her favorite look to create with Gaga, Tanno said many have been special to her, but the most memorable was from her Super Bowl performance in 2017. "It was epic. It was such an important moment in (Gaga's) career, so I knew I had to create something that was really timeless, something that she could look back on 20 years from now and love it as much as she did that day," said Tanno. If you recall, that look incorporated those aforementioned sequined appliqués, which resulted in a masked look. "It was really paying homage to everything she had done in her career at that point and not doing anything that was unrecognizable, that was really, truly Gaga, and then elevating it from there," she said.
This helps paint the picture of what "classic" means for Haus of Gaga. Sequined masks are more avant garde than, say, a chignon and a cat eye – but hello, we're talking about Lady Gaga here. This philosophy ties into the look Tanno recreated for us: the silver, foiled wing and red lip from the LA A Star Is Born premiere. For the Los Angeles debut of the movie, it was all about creating a "futuristic, old-Hollywood vibe," hence the decision to go with a silver wing instead of black.
"People think there are so many rules in beauty, but there really [aren't]," said Tanno. "I'm not doing it for anybody. I'm not doing it for 'beauty people' to love it. I'm just doing it because it makes me happy and I think it's awesome."
For this look, there's a trick. It's not one, not two, but four eye products – and a nail product – that create that dazzling effect on Gaga's lids. Tanno starts by creating a base on the lid with Marc Jacobs Beauty Under(cover) Perfecting Coconut Primer ($26). Then, using the brand's Highliner Gel Eye Crayon in N(ice) ($25), she sketches out a wing. "It has actual glitter particles in it," said Tanno, meaning you don't necessarily have to fuss with loose glitter to achieve a similar look. (Praise be.) "They also blend really nicely, so you can use it as an eye shadow, too," she said.
"People think there are so many rules in beauty, but there really aren't," said Tanno. "I'm not doing it for anybody. I'm not doing it for 'beauty people' to love it. I'm just doing it because it makes me happy and I think it's awesome."
Gaga has a lot of lid space. If you have more of a hooded lid, Tanno recommends overaccentuating the eyeliner higher on the lid so that you can see it.
To emphasize the metallic look, Tanno selects the Eye-conic Longwear Eye Shadow Palette in Smartorial ($49) and uses the shade In Doubt, a true silver. Wetting an angled liner brush, she applies In Doubt over the line she created with the Highliner Crayon.
To finish off the eye, she uses the See-quins Glam Glitter Eye Shadow in Flashlight ($28) (an icy opal) all over the lid by taking her finger, patting it into the pot, dabbing it on the eye, and blending it out with a brush.
She brought the rest of the look together using a hint of blush and, of course, mascara, then tied everything up with Le Marc Lip Creme Lipstick in Oh Miley ($30). Tanno said its that "perfect red that looks good on very skin tone."
Two things to note from this tutorial: Tanno didn't include foil on the lid, which she did use on Gaga for the red carpet. That's because our model (read: yours truly) has a hooded lid and not as much lid space to work with. For Gaga, she took a piece of nail foil, cut it up, and then applied the piece to the center of the lid to reflect the "liquid metal of the dress," as Tanno put it. And for the lips, she didn't use a gloss on Gaga, but she applied the limited-edition Enamored Hi-Shine Lip Lacquer in Shine a Light as a glaze on top.
Source: POPSUGAR Beauty