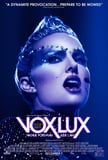 In the age of modern celebrity, the film Vox Lux tells a tale as old as time: young aspiring singer catches a lucky break that catapults her to superstardom, only to watch things ricochet from good to bad at a blistering pace. What makes Celeste (played by Natalie Portman)'s story different, though, isn't in how it originates, or even the music – it's the movie's hair and makeup.
"Celeste is a powerful, strong, and dark individual, so it was necessary to express that through [her look]," the film's head of makeup Anouck Sullivan told POPSUGAR. "As an unraveling pop star, she is quite literally hiding behind the makeup. The hair department head Esther Ahn and I wanted her to look otherworldly – and yes, we wanted there to be a lot of glitter."
While she admits there wasn't one singular inspiration behind Portman's character, Sullivan said: "I kept in mind that today's pop stars have, throughout the decade, competed and tried to outdo one another on stage." And upstage she did. How, exactly, she did it just took a little fine-tuning.
Source: POPSUGAR Beauty