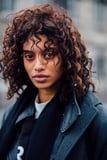 Not to sound like a Christmas Eve TV special nobody is watching because it's on Lifetime, but the future – as in, 2019 – is looking merry and bright, especially when it comes to hair color trends. Where 2018 was all about swirls of rainbow and every coffee-inspired hair hue you could possibly imagine, the color forecast for the new year is looking like the polar opposite: either blindingly blond and so dark it's on the edge of goth, or so natural-looking, you'll barely notice you did a thing.
"For the adventurous people, this next year is going to be about bolder colors that stand out and draw attention," said NYC colorist Stephanie Brown. "Then again, low-maintenance hair color isn't going anywhere fast. It's easy to keep up with and really pretty."
We're talking inky black dye versus copper highlights – plus a few iterations in between – and to help guide you through the cloud of hydrogen peroxide and bleach, we asked three colorists to break down which trends are worth trying in 2019. As all those infomercials say: new year, new you, right?
Source: POPSUGAR Beauty