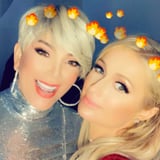 Kris Jenner has switched up her signature look. The reality TV star and self-proclaimed "momager" recently wore a platinum blonde wig to the Kardashian-Jenner family's annual Christmas party. Jenner shared a close-up look at her festive makeover in a video with Paris Hilton, who, Jenner said, "taught me when she was just a little girl, that blondes really do know how to have a LOT of fun!"
Although this is one of the few times Jenner has changed her hair color, it certainly isn't the first. She inspired many memes in 2017 after Kim Kardashian West shared an instantly iconic picture of Jenner in a blond wig, with a martini in hand. The look even warranted its own episode on Keeping Up With the Kardashians. In the episode, Jenner said, "This is the new me." Adding, "I've really wanted to go blonde for so long, but the process is really grueling on your hair so I thought I'd try a wig first."
Several months later, Jenner brought back the blond wig another time for a multi-generational KKW Beauty campaign, also featuring her daughter and mom in matching blonde looks. See pictures of her lightened-up alter ego ahead.
Source: POPSUGAR Beauty