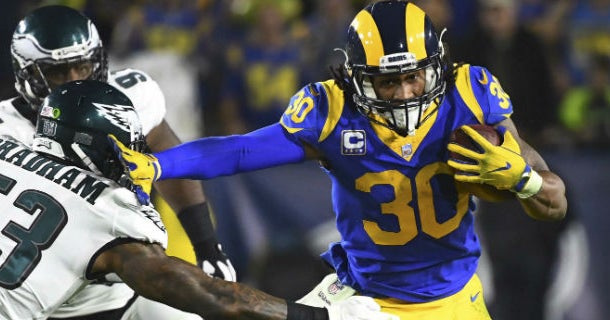 The San Francisco 49ers and Los Angeles Rams have announced their inactives for this afternoon's game at the Los Angeles Memorial Coliseum, with the two most notable names being Rams safety Lamarcus Joyner and running back Todd Gurley, both of whom were declared out last week.
The Rams will be relying on Blake Countess and Marqui Christian to help replace Joyner, while C.J. Anderson will be the one carrying the load in the absence of Gurley. Anderson was signed by the Rams on December 18 and delivered 167 yards and a touchdown on 20 carries against the Arizona Cardinals last week. 
"He looks how he always has," 49ers head coach Kyle Shanahan said of Anderson Friday, per 49ers.com. "C.J. is a good runner and he's efficient. If they give him a lane, he's going to hit it. He's been successful in this league. He's a bigger guy that's not easy to bring down. He's a good player, definitely."
Among those out for the 49ers will be wide receiver Marquise Goodwin, who is out with a calf injury. With both Goodwin and Dante Pettis (knee) out today, the 49ers are down to Kendrick Bourne, Richie James, Trent Taylor, and recent practice squad promotions Steven Dunbar and Max McCaffrey at wide receiver. Goodwin has had a difficult finish to the season after going through personal issues that kept him out for two games followed by the injury keeping him out today. Along the way, Pettis stepped into the starting lineup in place of Goodwin before hurting his knee in the Week 16 loss to Chicago. 
"It started out with we were planning on doing it more to try to get Pettis better," Shanahan said Friday, per 49ers.com. "We wanted Pettis to come along and we thought if he stayed out and played more it'd give him a chance to get better. The first time he got to do that was Tampa (in Week 12), which wasn't a choice because Quise left the day before for good reasons. Then, Pettis did struggle at times in that game, but he got better as the game went which made us realize we need to keep him out there. So, when Quise was going to come back, we were going to mix him in more. Bourne stepped up, too. So, we're trying to do a rotation, how we think is best for the team, best for all of our guys. Then, in the meantime, Quise just got banged up again. I think we started to use him a little more versus Denver. But, his health has kind of made it hard."
Here's a look at the full list of inactives for each team.
SAN FRANCISCO 49ERS: WR Marquise Goodwin, S Tyree Robinson, OL Erik Magnuson, OL Shon Coleman, TE Garrett Celek, NT Earl Mitchell, DL Sheldon Day
LOS ANGELES RAMS: RB Todd Gurley, OL Jamil Demby, NT Sebastian Joseph-Day, DT Tanzel Smart, OLB Ogbonnia Okoronkwo, OLB Trevon Young, FS LaMarcus Joyner 
The San Francisco 49ers and Los Angles Rams are facing off today for the second time this season after a 39-10 Rams win at Levi's Stadium in Week 7. The Rams come into today's game at 12-3 after a 31-9 victory over the Arizona Cardinals last week and need a win to seal a first-round bye in the NFC playoffs. The 49ers stand at 4-11 after a 14-9 loss to the Bears last week and are looking to finish up the year on a high note after a disappointing season. Today's game is the 139th meeting in the history of the 49ers-Rams rivalry, with the 49ers holding a 69-66-3 overall record.
Source: "Los Angeles" – Google News