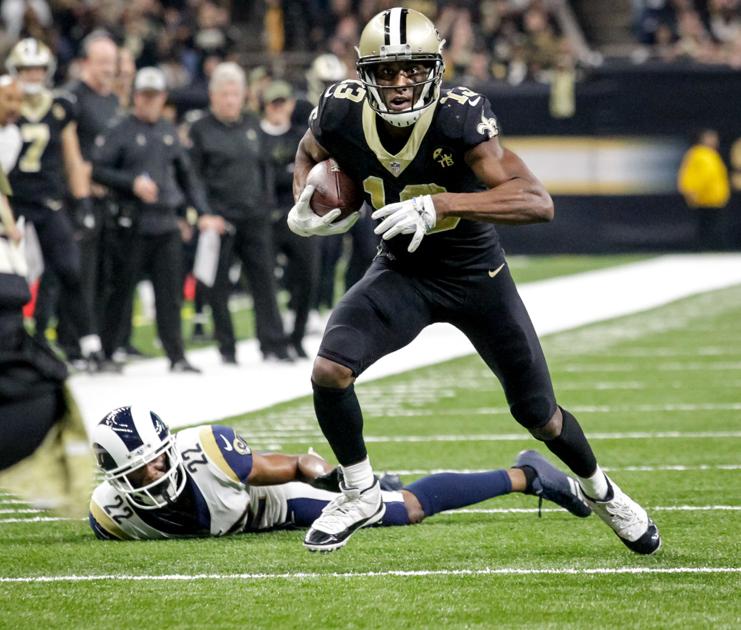 Los Angeles Rams at New Orleans Saints (NFC Championship)
When: 2:05 p.m. Sunday
Where: Mercedes-Benz Superdome, New Orleans
TV: Fox
Radio: WWL-AM, 870; WWL-FM, 105.3 in New Orleans; KMDL-FM, 97.3 in Lafayette; WDGL-FM, 98.1 in Baton Rouge; en español: WGSO-AM, 990; WVDU-FM, 97.9
Records: Saints 14-3; Rams 14-3
Coaches: Saints, Sean Payton (118-74 in regular season, 8-5 in playoffs), 12th season; Rams, Sean McVay (24-8 in regular season, 2-1 in playoffs), 2nd season
Offense: The Rams' offense looks a little different than it did in November when the Saints beat them 45-35 in the Dome. They now have a 2-headed monster in the backfield. You know all about All-Pro RB Todd Gurley, who finished third in the league in rushing (1,251 yards) this season after being named the NFL's Offensive Player of the Year a season ago. But the Rams acquired C.J. Anderson since then and he's played like a man among boys. He's averaging 140 yards per game and averaging 6.4 yards per carry in his three games with the Rams. That includes a 167 yard outing against the Arizona Cardinals and 123 yards in the divisional round against the Dallas Cowboys. Anderson and Gurley (115 yards) both went over 100 yards vs. Cowboys in a game Rams rushed for a whopping 273 yards. Now they face a Saints' team that hasn't allowed an opposing back to go over 100 yards in 25 straight games. The Saints, though, are without DT Sheldon Rankins, who tore his Achilles on Sunday….. Rams rushed just 19 times in first game against the Saints, but some of that was due to falling behind 35-17 at halftime. Don't be surprised if they try to establish the run more this time like they did vs. Dallas when they ran the ball 43 times… But they can throw it if they need to, which is why they were second in the league in scoring (32.9 points), second only to the Kansas City Chiefs… QB Jared Goff, who threw for 4,688 yards this season, completed 28 of 40 passes for 391 yards and 3 TDs in first game against the Saints … Former Saints WR Brandin Cooks (6 catches 114 yards, 1 TD in first game against Saints) and Robert Woods (5 catches, 71 yards) are Goff's main targets. … The 5 offensive linemen make up a cohesive unit, having played all 17 games this season. They didn't give up any sacks against Dallas and Goff was hit just once. The Saints managed to hit Goff five times in first game, but didn't get any sacks.
Defense: The defense starts with DT Aaron Donald, the only player to be a unanimous pick for this season's All-Pro Team. Donald is about as disruptive as they come up front, as shown by his league-leading 20.5 sacks this season. The Rams didn't record any sacks against the Saints in first meeting, but Donald had 4 hits on Drew Brees and also recorded a tackle for loss. He's joined up front on one of the league's best D-lines by Ndamukong Suh (2 QB hits, 1 TFL against Dallas) and Michael Brockers. …. OLB Dante Fowler had just joined the Rams the week of the last game against the Saints after being acquired from the Jacksonville in a trade. He played some in that game, but now is a regular and has become the Rams' best edge rusher. MLB Corey Littleton led the team in tackles. … CB Marcus Peters struggled against Michael Thomas in the first game, but probably won't draw that tough assignment this week now that Aqib Talib is back. Talib was on injured reserve during the first game after having surgery on his ankle but has returned to shore up the secondary. That could be key considering the Saints have Ted Ginn Jr., who missed the first game … The Rams' defense is one of the more opportunistic ones in the NFL. They finished third in total turnovers (30) … The Saints offense was able to rack up 487 yards (346 passing, 141 rushing) in the regular season game and also scored on all five trips to the red zone. The Rams also struggled getting off the field, with the Saints converting on 7 of 12 third downs and 2 of 2 fourth downs.
Special teams: Kicker Greg Zuerlein was 2 of 3 in first game against the Saints, including a 56 yarder. He made 27 of 31 field goals (4 of 6 from 50 yards or longer) and was 35 of 36 on PATs. Punter Johnny Hekker was a second-team All Pro selection. (Seattle's Michael Dickson was first team). Hekker was involved in the somewhat controversial momentum shifting play in the first game against the Saints. With the game tied 14-14, the Rams tried a fake field goal. Hekker, the holder, ran close to the first down marker but was ruled just short. The Saints went on to score the game's next 21 points. … LB Cory Littleton is also a standout on special teams, earning All-Pro honors for his special teams play that included two blocked punts this season.
Follow Rod Walker on Twitter at @RWalkerAdvocate .
Follow Rod Walker on Twitter, @rwalkeradvocate.
Source: "Los Angeles" – Google News