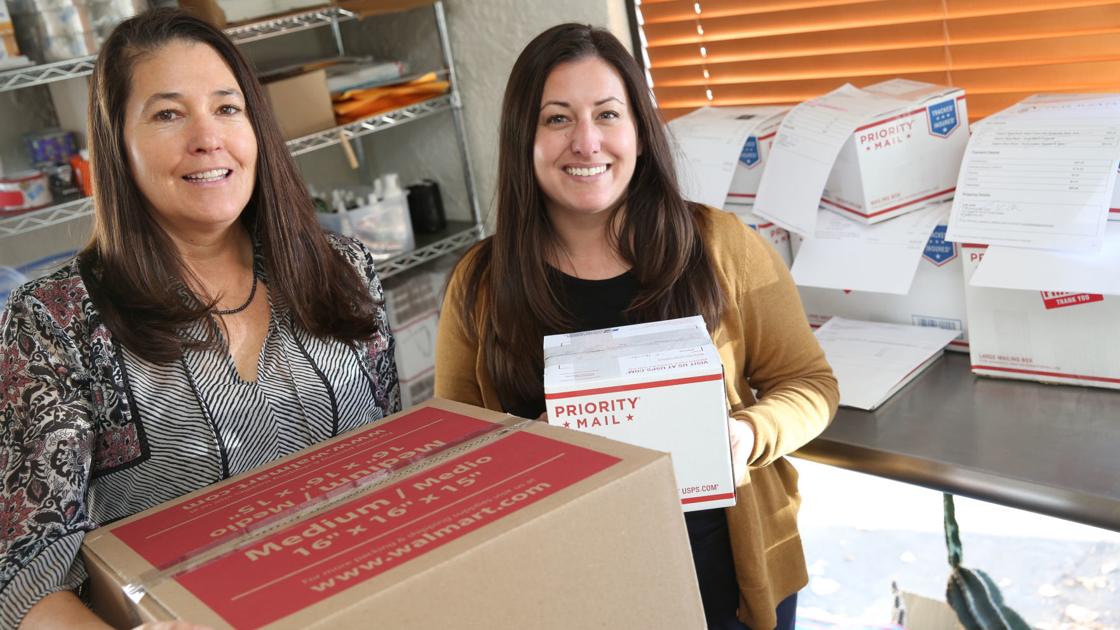 A family-owned Flagstaff business has just made a major change in how it sends its product to its customers.
Peak Scents, a Flagstaff-based natural beauty products company founded by DeeAnn Tracy Brown in 1993, recently cleared all of the hoops to have three of its products carried by Amazon who will then fulfill orders for those products.
In an online world where customers can shop for a seemingly limitless number of products while sitting at home in their pajamas at any time of day, companies can make their products where convenience is balanced by the realities of both shipping and the costs of getting products to customers.
In the past, online sales at Peak Scents have been done by customers buying product from www.peakscents.com. With these orders, customers needed to reach a minimum order level to receive free shipping or had to pay the additional costs. Those orders were then packaged into boxes at the Peak Scents office in Flagstaff and mailed all across the country.
"We originally started with an online retail site and 75 stores that carry our products nationwide. The challenge for our online site is shipping costs both for us and for the customer," Brown said.
"We just can't afford to send one product to the customer with free shipping," Brown said. "A package to the east coast could cost $8 to $12, so a $16.95 product could coast an additional 50 to 75 percent in shipping costs."
Now three items in the Peak Scents product line will be shipped directly to customers from Amazon fulfillment centers, all three available as Amazon  Prime products.
"We want to reach a bigger audience and Amazon is a great way to do that. We have great skin care products that are affordable and work incredibly well," Brown said. "This is a great way to reach a much larger audience by offering free shipping to those who have Amazon Prime and it keeps the products affordable.
"As we see how the products do, we hope to increase the number of products fulfilled by Amazon."
According to CNBC.com, 44 percent of all commerce sales last year in the United States took place on Amazon. Of those sales, the fastest growing product groups on Amazon were luxury beauty items.
These statistics drove the company to look into the process of having their products carried by Amazon.
"We want to keep up with the way retail is changing, more people are buying online these days and they want free shipping. My BAHG, big audacious hairy goal, is to be an Amazon Best Seller in the indie beauty category by getting on the first landing page for each product type," Brown said.
"We chose to launch with three of our best selling Organic Rose Phyto3 products because they are unique. We use plant stem cells, peptides, super fruit extracts and botanicals. They truly are top notch and no one else is offering this combination of ingredients for such a reasonable price." Brown said.
Brown added the process to end up on Amazon was not an easy one, consisting of a year-long process of "paperwork, persistence and headaches." However, the benefits of going through all of the requirements are well worth for Brown.
"As an Amazon seller, we send a box of 50 items and pay a reduced shipping cost to Amazon. We can send three large shipping boxes to Amazon for $16. Amazon then covers the cost of shipping orders to our customers," Brown said. "Right now, our customers are seeking out natural skin care. By being on the Amazon platform, new customers who may not be looking specifically for us can be given the opportunity of buying our products as they are searching for natural skin care.
"We feel like we have a kick-ass product, so Amazon gives us more reach for that product. We continue to value our wholesale relationships in the 75 stores nationwide that carry our products and plan to be increasing the number of stores carrying our line."
Subscribe to Breaking News
Source: "Amazon Products" – Google News