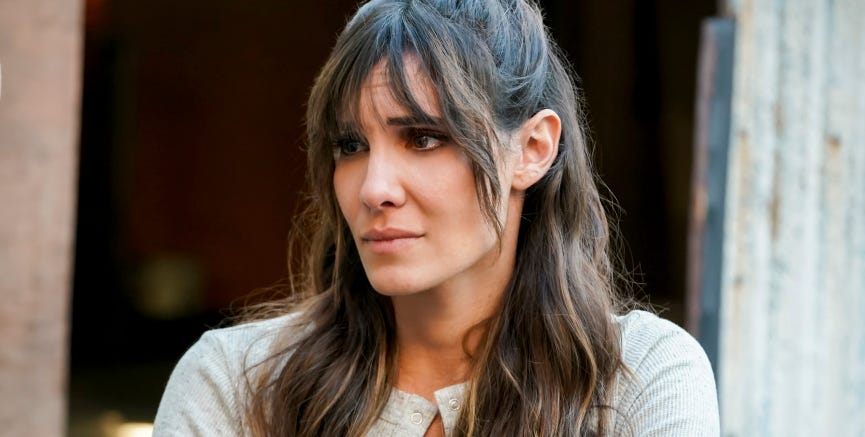 Grab the tissues, because this week's NCIS: Los Angeles is going to be a major tear-jerker.
Agent Kensi Blye (Daniela Ruah) is often known for her quick wit, and for keeping her fiancé Marty Deeks (Eric Christian Olsen), in line. But in the season 10 episode titled, "Better Angels," Kensi finds herself stuck in the middle of an emotional roller coaster with a Syrian man seeking justice.
According to the network, David Sarraf (Eyas Younis) is "brutally attacked" while trying to deliver evidence that chemical weapons are being used on civilians. In the sneak peek photos, David is pinned behind a car, with only Kensi to console him. And if that brief, but obviously heart-wrenching description doesn't prove that this will be an intense episode, perhaps the overlay text on the clip above will convince you: "The final moments of his life will change hers."
Stop, NCIS—We can't take it.
Too bad for all of us, because there's more. Kensi has to deliver the news to David that, "The car is the only thing stopping you from bleeding out." After he hears this piece of cheery info, he asks her, "Please help me hear my wife's voice one more time."
Kensi's crying, I'm crying, we're all crying.
But that's not all: Because CBS wants to ensure their 20 second promo brings a tear to even the most thick-skinned of viewers, they end the scene with a very distraught David telling Kensi, "You're my angel."
---
---
It's all too much, especially when she runs into Deeks's arms sobbing. Can we get in on that action? Because we need a hug, too.
For your weekly dose of heartbreak, tune into NCIS: Los Angeles Sunday at 9 p.m. EST on CBS.
Source: "Los Angeles" – Google News