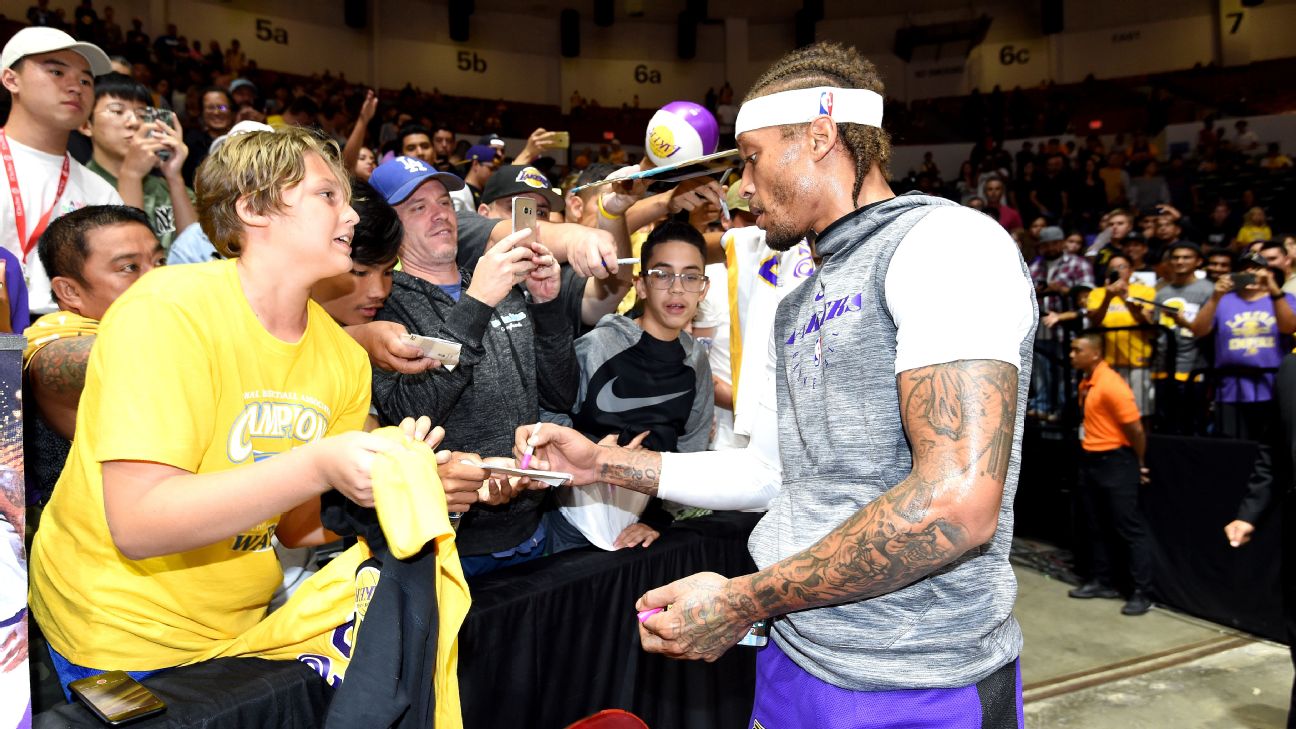 WASHINGTON — The Los Angeles Lakers' 128-110 defeat at the hands of the Washington Wizards on Sunday wasn't a total loss as Michael Beasley rejoined the team on the bench early in the second half after being away for the past week to spend time with his ailing mother, Fatima Smith.
Beasley, a native of Prince George's County, Maryland, was in the area as the Lakers' four-game road trip rolled through the nation's capital. He attended the game at his mother's request, according to a team spokeswoman, because his mom wanted to see the Lakers play in person.
He and his mother watched the first half from a suite before Beasley emerged from the tunnel early in the third quarter to greet his teammates, whom he has not been together with since Dec. 8 while tending to his family.
"It was very good to see Michael," said Lakers coach Luke Walton, who has kept in regular communication with the 29-year-old forward during his multiple leaves of absence this season. "Besides watching the game we played, turning around and seeing him on the bench was a nice moment."
Sunday marked the 10th game this season that Beasley did not play in because of personal reasons.
LeBron James did not want to speak specifically about Beasley's situation out of respect for what he doesn't know and cannot relate to without having gone through it himself, but he shared Walton's sentiments about what it meant to have Beasley around again.
"It's happy to have our brother back, see a smile on his face," James said of Beasley. "The game of basketball's done so much for him and for him to be able to get away from whatever situation he's in, I know it's a bright spot for him. I just try to give him respect. I'm ready for him when he came back that's for sure, but it's all family time. He knows he got my support. I've been knowing Beas for a long time now."
Beasley is the only member of the Lakers that James played with as a teammate previously in his career. They were on the Miami Heat together in 2013-14.
The Lakers signed Beasley, the No. 2 pick of the 2008 draft, to a one-year, $3.5 million deal in the offseason with their final roster spot in part for his scoring penchant and also with the hopes that his connection to childhood friend Kevin Durant could help lure the superstar from the Golden State Warriors in the summer of 2019, according to ESPN's Brian Windhorst.
While Beasley's family time has short circuited any chance to build momentum in the Lakers' rotation — he's averaging a career-low 4.4 points in just 7.1 minutes per game — he has become one of the most popular locker room figures in L.A.
"I was really happy (to see him)," said Lakers rookie Moe Wagner. "He's a really good guy, really good team guy. … We are very close, so it's not the same without him."
"You know, we all got family, we all feel what he's going through," added Kentavious Caldwell-Pope. "I feel like if one of us was in the same situation, he'll reach out and do the same as what we were doing so I feel like just being there for him will help."
James said he was unaware when Beasley would rejoin the team on a more permanent basis.
"I mean as a family we all basically told him to take as much time as he need," James said. "He's a professional and we're all his brothers and whatever he needs we all support that."
Walton was asked if Beasley's situation did anything for his team in terms of putting basketball in its proper place in the grand scheme of things.
"There's always perspective to be had," Walton said. "I mean, we take our jobs very serious but we know that there's always real life happening and that's always the most important thing. We also know we're lucky to have our jobs and we have a group that really enjoys each other and coming to work. But Michael obviously going through real life stuff is more important than any basketball."
Source: "Los Angeles" – Google News