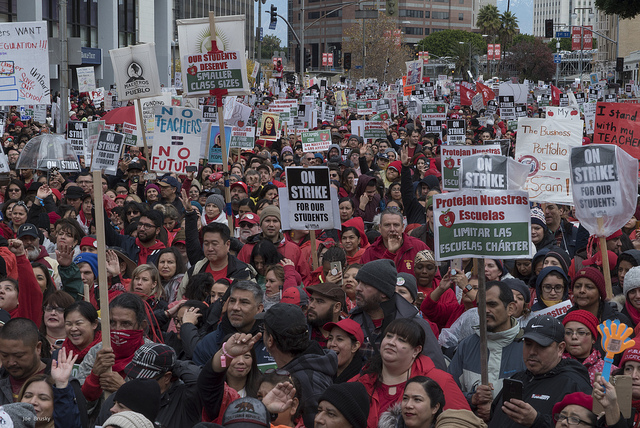 The union for the second largest school system in the United States went on strike Monday.
Members of United Teachers Los Angeles walked off the job this week for the first time in 30 years. Union leaders delayed the strike until Monday in the hopes of getting a better deal, but talks fell through once again.
After more than 20 months of negotiations between UTLA and the Los Angeles Unified School District, teachers took to the streets and the picket lines calling for better wages, benefits and working conditions. The union has called on the LAUSD and Superintendent Austin Beutner to use city reserves and state funding for more school counselors, nurses and librarians; to cap class sizes; and to prioritize underfunded neighborhood schools. They are demanding that the LAUSD take its focus away from charter schools.
"Unlike Beutner and his administration, we do not want to bring confusion and chaos into an already fluid situation," said UTLA President Alex Caputo-Pearl in a statement. "Although we believe we would ultimately prevail in court, for our members, our students, parents and the community, absent an agreement we will plan to strike on Monday." Caputo-Pearl said that the teachers did not want to strike, but were left with no choice but to force the district's hand.
Before talks broke off, the LAUSD offer limited class sizes in fourth to sixth grades to 35 students, limited all middle and high school math and English class sizes to 39 students, added approximately 1,200 more educators (counselors, nurses, teachers and librarians) and increased salary by 6 percent (along with back pay for the last school year).
UTLA officials said the offer wasn't good enough and that the school district has experienced a surplus every year for the past five years and referred to LAUSD's strategy as "broke on purpose."
American Federation of Teachers President Randi Weingarten joined Caputo-Pearl, parents, students, clergy, community members and other union leaders on the picket lines in a show of solidarity.
Both California State Gov. Gavin Newsom and Los Angeles Mayor Eric Garcetti have called for more resources for public schools, and in anticipation of the strike, tens of thousands of people have signed a petition asking Beutner to do the right thing.
Friday, LAUSD officials denounced UTLA's rejection of its latest offer and had hoped the union would change its mind on a work stoppage.
"We are extremely disappointed that United Teachers Los Angeles has rejected Los Angeles Unified's revised offer without proposing any counteroffer," read LAUSD's Friday statement. "UTLA has refused to continue contract negotiations. More than 48 hours remain until Monday when UTLA plans to strike, and we implore UTLA to reconsider. A strike will harm the students, families and communities we serve, and we have a responsibility to resolve the situation without a strike."
Officials at the Los Angeles Unified School District have informed the public that schools are still open and shared a "work stoppage/strike" hotline for parents and guardians.
"Los Angeles Unified schools will be open providing every student with a safe and welcoming learning environment," read an LAUSD statement released Monday. "Elementary, middle and high schools will be open, instruction will continue and meals will be served tomorrow and throughout the UTLA strike. Early education centers will only be open to special-needs students and state preschool sites will be closed."
In the meantime, teachers' union members and supporters across the state of California showed solidarity with UTLA with the #RedForEd social media campaign in which people wore red-colored clothing to show support for the strike. #RedForEd was initially triggered by last spring's walkouts by teachers in West Virginia, Colorado, North Carolina, Arizona, Kentucky, Washington and Oklahoma.
Source: "Los Angeles" – Google News