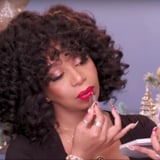 "Ya'll know that bad bitch, who's bad enough to show up uninvited? Yeah, that's me."
That's just one of the many gems that Tiffany Pollard – aka New York, aka the "original HBIC" (as she introduces herself) – left us with in her makeup tutorial for Fenty Beauty. In the video she tests Fenty products (like the Killawatt Foil Freestyle Highlighter Palette and Diamond Bomb All-Over Diamond Veil) with her unfiltered opinion, telling us exactly what to wear during cuffing season or for the "b*tch that spit on you."
Watch it yourself below – just make sure you wait until you're alone, because you won't be able to get through it without laughing.
Source: POPSUGAR Beauty