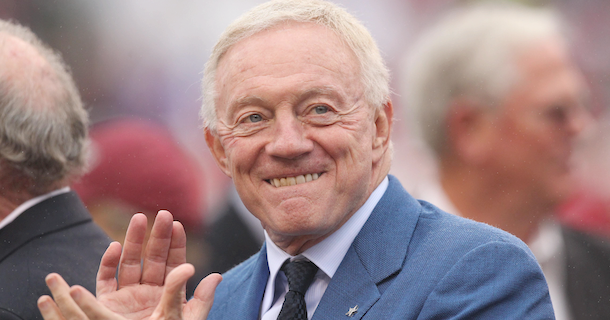 The Dallas Cowboys are America's Team. While they are most comfortable in North Texas, they can go to just about any stadium in the country and know that there will be fans rooting for them there. But the city they are playing in on Saturday is somewhat special for the Cowboys and their fans. As Jerry Jones noted, the Cowboys are totally fine with the idea of playing in Los Angeles.
"Well, we've got thousands of fans that are generational there in Los Angeles," Jones told 105.3 The Fan in Dallas (h/t Mike Florio of Pro Football Talk), "and I'll bet I have 30 first and second cousins out there alone. I was actually born in Inglewood in Los Angeles County Hospital, and so I got a great lineage of family that lived there. When we'd go to a family reunion, they'd say, 'Jerry, we don't sound like you do. You sound a little bit different.' I'd say, 'Well, I was raised a little to the east of you guys.' But still, it's a great feeling. We do feel very comfortable going to Los Angeles and playing. Now, that's not to say the Rams are going to make it comfortable for us, though."
So what makes Los Angeles such a haven for the Cowboys? There are a few factors. The most obvious is that the Cowboys actually do play in Los Angeles for a portion of the year. They open training camp every season in nearby Oxnard, California. That blends into the other elements in their favor. They have been practicing in Oxnard for seven years. For most of that time, Los Angeles did not have an NFL team. The Rams were in St. Louis, while the Chargers hadn't yet left San Diego.
The only game in town was a few weeks of Cowboys training camp. Therefore, thousands of fans took to the Cowboys through nothing more than exposure. They were the only team that they got to see in person, so they adopted the Cowboys as their own. It is now expected that more than half of The Coliseum could be filled with Dallas fans despite the Rams having home-field advantage on Saturday. The Cowboys truly will be comfortable playing in Los Angeles because they already do it.
Does that mean the Rams will be an easy opponent? No, of course not. Even if the game were in Dallas, the Cowboys would probably be underdogs. The Rams might have more roster talent than any team in the NFL. But that is likely the only thing that the Rams will have in their favor this weekend. Their fans aren't going to win them this game. Their players will have to. And if they can't, the Cowboys will go to the NFC Championship Game.
Source: "Los Angeles" – Google News