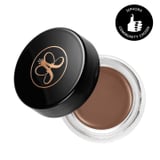 I've long suffered from thin, wimpy brows with no discernible shape. They're so thin that I only got them shaped once as a teenager, and then never saw the point in getting them done again. After trying everything, including pencils, fiber gels, and chunky crayons, to pump them up, I finally settled on one game-changing product: the Anastasia Beverly Hills Dip Brow Pomade ($18).
The product is so pigmented that after dipping my brush into the jar, I usually wipe some off in the cap to make sure I don't paint on one solid block of brow. I use an angled brush and a light hand to outline my brow shape and fill in with small hair-like strokes. I get compliments on my brows all the time, and many people have no idea how thin my brows really are because the product looks so natural. Unlike many other brow products I've used, it doesn't budge or melt off throughout the day and stays on until I remove it. It's so popular that it's received a seal from the Sephora Online Community for its positive reviews.
Although I keep trying new products, nothing has beat this one yet.
Source: POPSUGAR Beauty