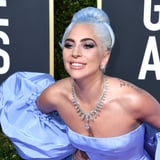 Lady Gaga is no stranger to blue hair (or orange, or yellow, or pink, for that matter. . .), but her soft pastel take on the color at the 2019 Golden Globes has everyone doing a double take – but maybe not for the reason you think.
While the look has plenty of people on Twitter and Instagram drawing comparisons to Disney's Cinderella – the sleeves! that train! – it's also eerily reminiscent of Judy Garland's lavender gown in the 1954 version of A Star is Born. Considering the fact that Bradley Cooper's iteration featured many tributes to the earlier films, you do have to wonder if Lady Gaga's colorful hair was yet another nod to the past.
Check out the similarities ahead, and remember: not everything's always as shallow as it seems.
Source: POPSUGAR Beauty