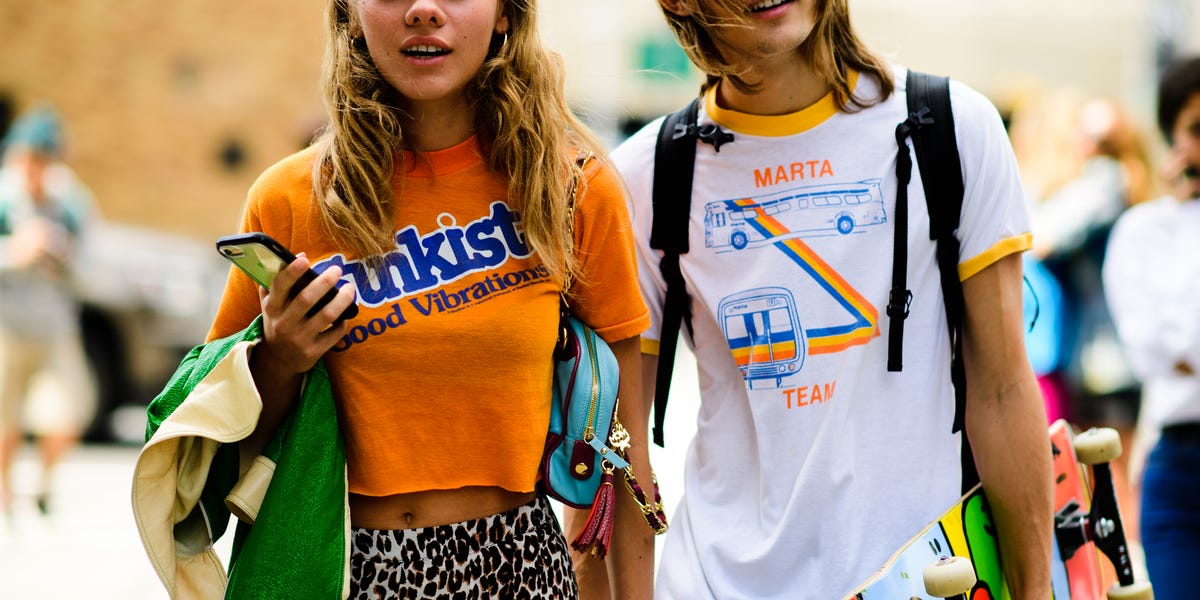 Every morning, I wake up and want to scream like a baby. "I'M TIRED," I would screech, in this fantasy life. Unfortunately, I am a grownup, not a baby, and I cannot do that. With just under two weeks left in the year, I'm feeling the cumulative effects of 2018's exhausting creep, the 4:30 P.M. sunsets, the realization that I actually haven't maybe done anything at all all year.
On the other hand, it's party season. New York City is movie-set festive and beautified. Everyone I know chatters about their upcoming travels ("Paris, France") or relaxing plans ("I can say I will be doing nothing"); every person and their pet poodle is having a fête; there's just a convivial vibe. You're going to see everyone you know and be seen doing it.
It's a bizarre combination! It's so confusing that I've started making rather odd sartorial decisions. Seemingly, I've gone totally rogue with my wardrobe. Gone are the carefully proper work uniforms and sleek, understated after-5 outfits. I will admit it: I've started dressing like a total nightmare. What does that mean? Well, if you thought it was impossible to both 1) not put enough thought into what you wear and 2) somehow be pridefully ostentatious about it, think again!
How can you do this weird fashion dance? It's easy!
The more garish or outlandish, the better.
Generally, I stick with neutral colors—that sensible wardrobe rule that makes everyone's life easier. But lately I've found myself drawn to things that are not just basic black. Red sweatshirts, with blue boots, and khaki jeans? Why not? Pink sneakers with soles that look like giant pebbles? Go ahead. Acid-green dresses, baseball caps with naughty embroidery, a too-big leather jacket in a weird color you got at a sample sale: It's all kosher.
Cinq à Sept cropped ruffle-trimmed leather slim-leg pants
Is it see-through? Okay!
I understand that not everyone's workplace accommodates transparent garments. In fact, I'm not sure even mine does. But the proliferation of mesh, gauze, lace, and tissue-thin nylon in stores tricked me into acquiring quite a few. And now I'm just going to wear diaphanous shirts over bright pink bras, or whatever! Can you see my legs through my pants? That's just how we live now! So what if the arms of my turtleneck are see-through. I can do whatever I WANT.
Matchy-matchy is just great.
While the goddess Fran Fine—hello also to Cher Horowitz—pulled off matching skirt suits of varying colorways and patterns with regularity and aplomb, in my life I have tried to avoid being what Sacha Baron-Cohen's fashion-tragic character Bruno once called "too matchy-matchy." But the effort of trying to figure out what else might go with this rust-colored cashmere sweater seems like tew murch when I could just wear it with these…rust-colored leggings and sports bra. Great! So what if you look like an Outdoor Voices ad? You buy all that athleisure for a reason.
Look like you're at a party all the time.
While it might be tempting to get about in your pajamas all day—also a valid option!—part of going rogue in December is about overdressing to the max. What's the point of getting dressed if you're not adorned with a ruffle the size of your head, or clad in 19 shades of Rainbow Brite? Carry a clutch around with you at work, and ignore the frowny stares. You might not be going to a party, but you look like you're going to one. It's not the party that's important; it's the smile on your face.
C/Meo Collective Love Hate Mini Dress
It's not just about buying new stuff.
I've been reaching back into the darker recesses of my closet for things I often reject for being OTT. Now that it's deep winter, I don't care if it's too much! You know what's too much? A temperature of 10 degrees. Seasonal depression. Socks that seem permanently wet. Now it's time to crack out that extremely voluminous dress that you have to shuffle sideways like Taylor Swift to get through a door, or that designer collab tee with a shocking print. Put a turtleneck under it! It's fashun. Being creative with the stuff you have is a nice way of breaking your own habits and rules—just in time for a new calendar.
Uniqlo Heattech turtleneck
Everything else is a bit hard, so don't have too many rules about what you wear.
You did the best you could this year. You made it! All the way to December! I bet you're on Santa's nice list. For once, ignore the fashion angel on your shoulder—just do whatever the hell you want.
Source: Fashion – ELLE