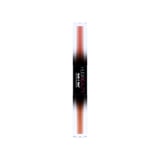 My lids are pretty oily, so I typically lay down a heavy-duty primer before applying my eye shadow. Without fail, by the end of a long night, my eye shadow will have smudged or have made its way into my creases.
But the HudaBeauty Matte and Metal Melted Shadows ($25) is the exception. Upon first glance the matte and glitter shadow duo could be mistaken for a lip product. When I pulled out the wand of the matte end, it revealed a silky liquid sitting on a sponge-y, flat doe foot. I slicked on an opaque line of Private Jet (a warm rose) onto my lids and spread it up to my brow bone with my finger. In just seconds, it dried down to a powder finish that stayed on like spackling paste. Seriously, it would not move. Then, I took the brush from the glittery Shimmering Sunset shade (which tapers into a point for precise application) and added a few dots of sparkle to my lids. Again, this one wouldn't move.
This shadow will not budge, maintaining opacity even as my oily fingers tap and touch them. You can thank Huda Kattan for concocting the hardest-working eye shadow in the game.
Source: POPSUGAR Beauty