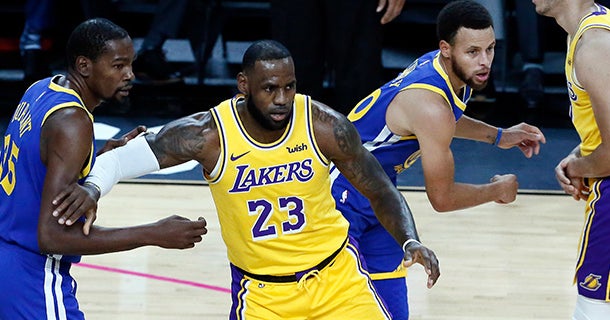 LeBron James plays against the Golden State Warriors in the NBA Finals every year. It has therefore become an annual tradition for him to play against them on Christmas Day, the NBA's marquee regular-season stage, but this year brings a new twist to a beloved classic. James no longer plays for the Cleveland Cavaliers. He isn't bringing Kevin Love or Kyrie Irving with him to Oakland to face the Warriors. He is bringing Lonzo Ball and Brandon Ingram. The Los Angeles Lakers now employ James, and by the NBA's unwritten rules of Christmas, that means that they are set to square off with the Warriors on that holiday.
The game between the Lakers and the Warriors will begin at 8:00 PM EST, 5:00 PM PST and is being aired on both ESPN and ABC. Their lead broadcasting crew of Mike Breen, Jeff Van Gundy and Mark Jackson will be on the call. As the game is going to be televised nationally, it will not be streamed on NBA League Pass, but services that carry ABC or ESPN will have the game, and so will the WatchESPN app. The local radio broadcast will air on 710 ESPNLA with John Ireland and Mychal Thompson on the call, and a list of other radio affiliates in the region can be found here.
As of right now, the Lakers and Warriors would not meet in the postseason until the Western Conference Finals. The Warriors are second in the conference as of this writing at 23-11 while the Lakers are fourth at 19-14. However, history tells us that eventually, these two teams are going to meet in the postseason. James has not lost to any team in the postseason besides the Warriors since leaving the Miami Heat in 2014. The Warriors have not lost a postseason series in that timeframe to any team that did not employ James. No matter what conference he is in, the two would have been on a collision course in the postseason.
That is what makes this game so important. Home-court advantage is not particularly important between these two teams. Both sides have beaten the other on the road plenty of times. But this is a chance for both teams to feel the other out. To get a sense of what sorts of strategies will work against the other. Remember, there is plenty of overlap here. Luke Walton was formerly an assistant under Steve Kerr with the Warriors. JaVale McGee spent the last two seasons with them. Klay Thompson grew up watching dad Mychal play for the Lakers.
These two teams know each other about as well as two sides that have not yet played do. But they will both have new wrinkles and experiments set for this year's matchups. We'll get our first glimpses at what those are on Tuesday.
Source: "Los Angeles" – Google News