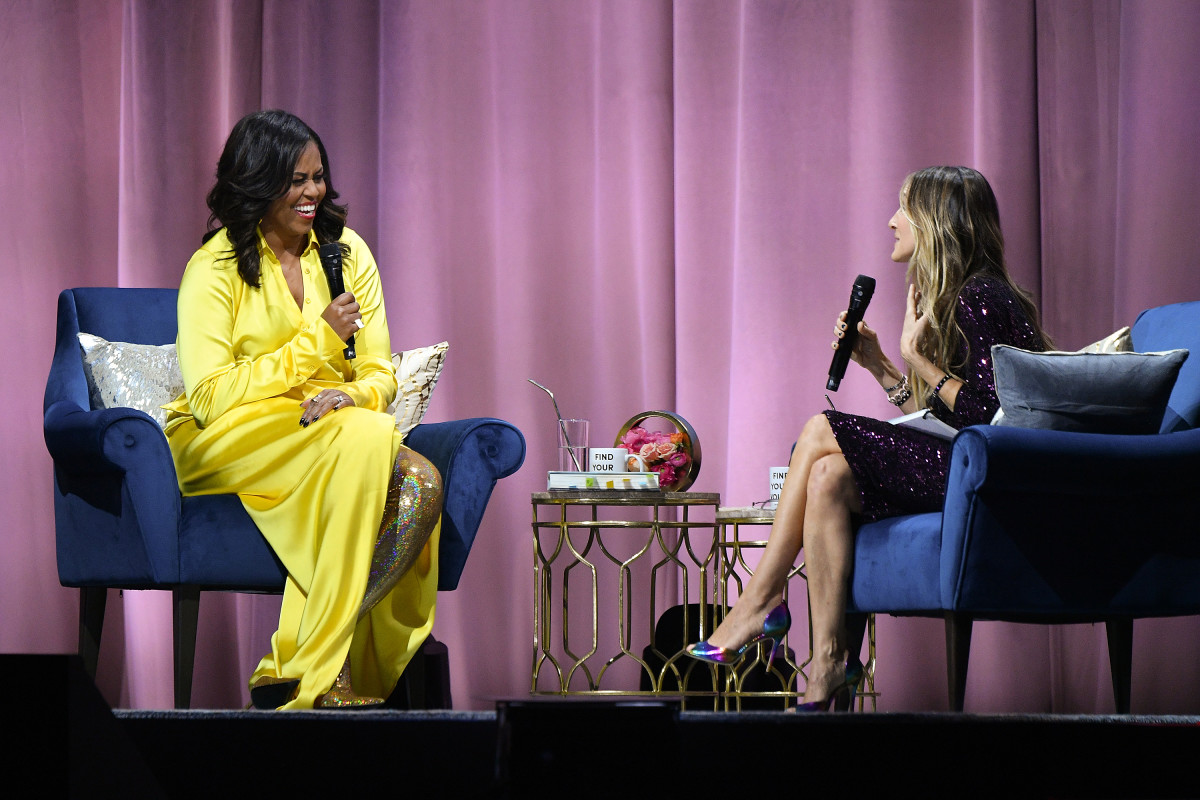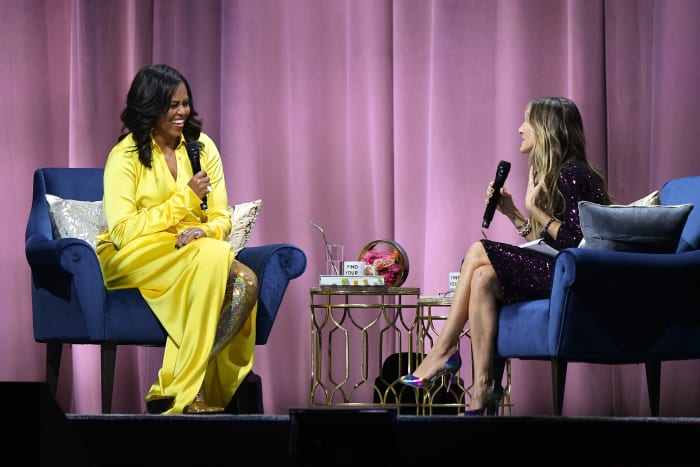 Former First Lady Michelle Obama is currently on a soul-affirming book tour for her new memoir, "Becoming." She has sold out stadiums in cities from Dallas to her native Chicago, speaking with moderators like Reese Witherspoon, Oprah and Chimamanda Ngozi Adichie about her life before, during and now after her family's time in the White House. As a bona-fide American fashion icon who famously used clothing to tell stories in new and pioneering ways, her fashion has been on full display, too, of course. 
On Wednesday, the former First Lady appeared at her New York City tour stop at Barclays Center in Brooklyn (opposite Sarah Jessica Parker) wearing — holy shit! — a pair of gold, sparkly, thigh-high, stiletto-heel boots by Balenciaga. 
The pair are currently available for purchase for a cool, casual $3,900 via MatchesFashion, and we are thinking quite seriously about starting up a crowd-funding campaign for them so we can own a part of this history. (Her silk yellow-bordering-on-chartreuse dress was also courtesy of Balenciaga.)
In a recent piece in The New York Times, Obama's longtime stylist Meredith Koop — shout-out Meredith Koop — discussed how Obama decides what she wants to wear. A lot of it, it turns out, comes down to physical logistics: "'What surface are you walking on? How many events? Will you be sitting? Will you be standing?'" In this case, we can only assume the logistics entailed making the Fashionista team's Slack explode with nonsensical exclamations and excitable emojis. Mission accomplished.
Sign up for our daily newsletter and get the latest industry news in your inbox every day. 
Source: Fashionista