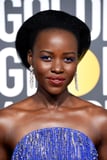 Lupita Nyong'o's eye-catching blue makeup look was created with three products.
Nick Barose, the Black Panther actress's makeup artist for the event, broke down her look on his Instagram. In a caption, he explains that he lined her eyes with Lancome's Drama Liquid-Pencil Longer Eyeliner in Côte D'azur ($23). Then, he applied Lashify's limited-edition Prismatic Colors A Gossamer Lashes ($25) on the outer corners and blended the colored lashes with Lancome Monsieur Big Color Lash Top Coat in Blue ($12). Barose also mentions the shade of blue created by artist Yves Klein as the inspiration behind the look.
See the images of Nyong'o's dreamy blue eyelashes, ahead.
Source: POPSUGAR Beauty