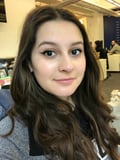 As a daily winged eyeliner wearer for the last decade (I feel so old), I've tried dozens of liquid liners in the hope of replacing my original love, a drugstore inkwell that was reformulated and never the same. Since then, I've searched for a product that was as finely tipped, wet, pigmented, and easy to apply. While I've found a few that I like, they have never been as good as my first makeup love. When I heard that Benefit's new Roller Liner ($22) was so good from POPSUGAR UK editor Tori Crowther, I knew I needed to give it a try.
To my delight, it arrived at my desk the next day and I immediately tried it out. I was floored. My biggest gripe with most liners is that I can't seem to get the finest lines that I want on the inner corner of my eyes and the outer most portion of my wing. While testing Roller Liner on my eyes, I couldn't believe how thin of a line I could get on my lids, and how it was richly black in one swipe.
After drawing on two sharp wings, I grabbed the brown version of the product and swiped it on my hand to ensure it had as good of a formula. I couldn't believe how smoothly it applied, making it a great option for those with fairer skin tones and lighter hair. The new line also includes a creamy beige eyeliner, called the Roller Eye Bright Pencil ($20), which can be applied to your waterline to brighten your eyes. I spread it above my lower lashes to complete my new eye look.
You can check out the entire line when it debuts in January, and until then, check out the images of the products ahead.
Source: POPSUGAR Beauty