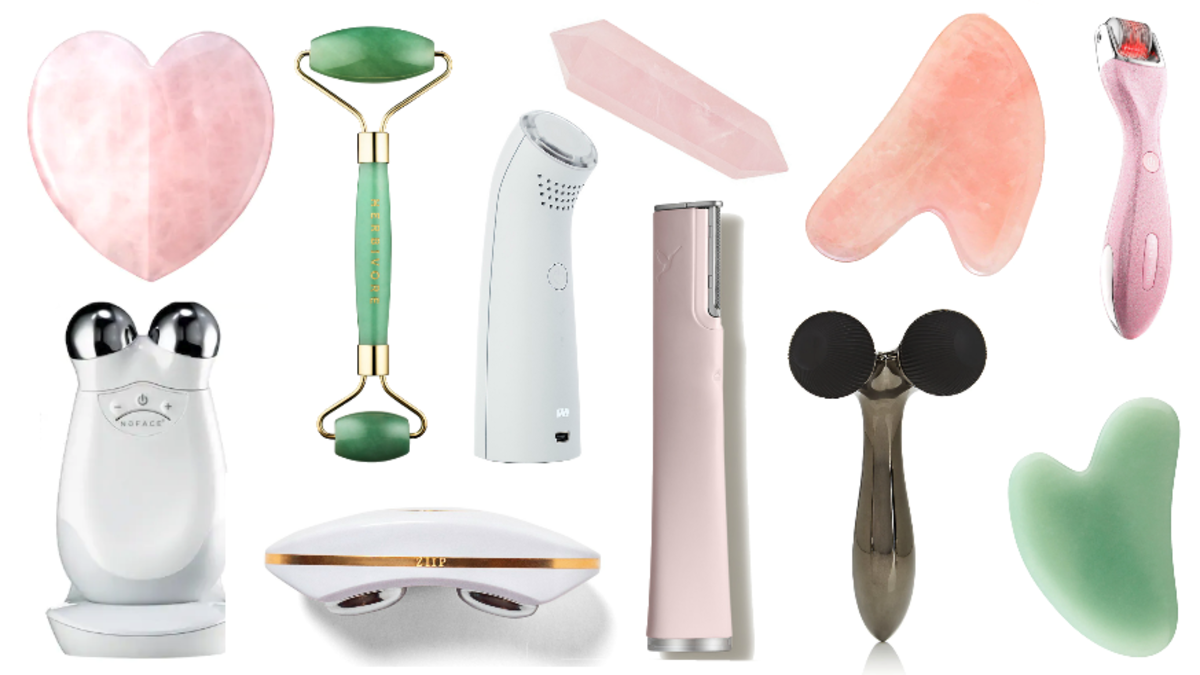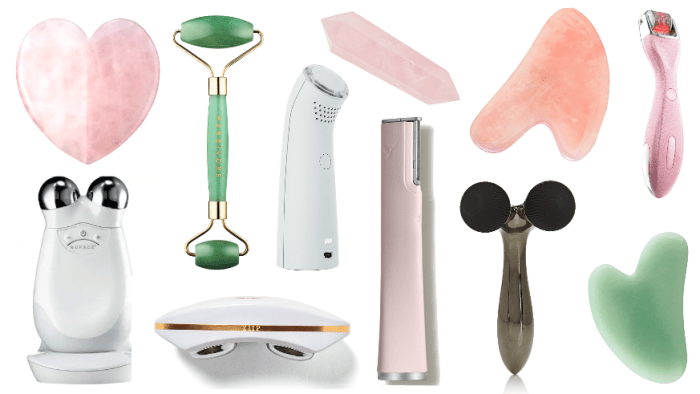 Skin care used to be simple: Clean hands, wash face, apply moisturizer, the end. Now? Not so much. But just as we've collectively become comfortable incorporating essences, toners, serums, oils, masks and more into our routines, a new category of skin care has bubbled to the surface — and it just may be the most confusing one yet. We're talking about the growing-by-the-second sector of at-home skin-care devices. From low-tech, Eastern traditions like jade rollers and gua sha stones that have recently become commonplace in the West, to space-age-looking LED machines, the gadgets that were once left to the skilled hands of dermatologists and estheticians have begun vying for a place on our vanities at rapid pace. Below, we break down exactly what you need to know about each type of tool, including which ones deserve a spot on your bathroom shelf.
FACIAL MASSAGING TOOLS
Some of the most popular at-home skin-care tools on the market, including facial rollers, massaging wands and gua sha stones, are also the simplest. Despite their varying shapes — rollers look like miniature paint rollers, massaging wands tend to be cylindrical and gua sha stones are flat with curved edges — all three are based on essentially the same premise: Use them to massage the face to relieve tension, boost circulation, reduce wrinkles and lift and de-puff the skin. 
Many facial massaging tools are also rooted in ancient traditions. There's evidence, for example, of jade rollers having been used in beauty rituals dating as far back as seventh-century China, and gua sha has origins in the ancient medical traditions of China and Southeast Asia. Similarly, some massaging wands, like the Kansa massager, which is made of wood and Kansa metal comes from Ayurveda, India's traditional healing system. Many of these tools are made out of Insta-worthy jade or rose quartz crystals, but the reason for that goes way beyond the 'gram. Many believe the stones have healing properties that can be transferred to the skin.
THE PROS AND CONS OF AT-HOME FACIAL MASSAGING TOOLS
While there are very few downsides to using any of these manual facial massagers, Jordana Mattioli, a medical esthetician at CompleteSkinMD in New York City, says they're far from being complexion magic bullets. "Any type of light facial stimulation is going to help increase circulation and sometimes reduce puffiness, which can make skin look better," she says. "But the results are only temporary." 
Mattioli likes to use facial massagers on clean, dry skin, but other skin-care pros advise using them with your favorite serum or face oil as a way to avoid skin-tugging friction and help with product absorption. Regardless of how you choose to use one, Mattioli recommends keeping it in the refrigerator or freezer for an extra cooling effect, and spritzing it with alcohol before and after each use to get rid of unwanted bacteria.
HOW TO USE FACIAL MASSAGING TOOLS AT HOME
Facial Rollers
There's no real right or wrong way to use a facial roller, which is part of their appeal, but Angela Jia Kim, the founder of Savor Beauty and Savor Spas, recommends this method: "Roll up and down jawline to firm up sagging jowls. Then, go up into cheekbones to massage away tension and to contour. Next, use the smaller end of the roller (if yours has one) to roll under eyes to help increase circulation and reduce puffiness. Continue up the face and roll in between the eyebrows to relax the 'angry 11,' and finally, don't forget to roll the neck area, which is often neglected but needs massaging and TLC. Always make sure you are moving the roller from the center towards the outside of the face."
Shop facial rollers: 
Gua Sha 
Britta Plug, a holistic skin-care expert and owner of Studio Britta in New York City, recommends going to a pro for gua sha for a lesson if you've never done it before, but if you want to try it on your own, be gentle and follow the tips she gave us: Angle the gua sha tool as close to parallel with your skin as possible, place the fingers of your free hand close to the tool's edge to provide some resistance, and then gently sweep the tool up and out toward the perimeter of your face. At the end of each stroke, give the tool a little extra wiggle to help release additional tension. Repeat each stroke three times, and concentrate on puff-prone areas, like the cheeks and undereyes.
Shop gua sha tools:
Facial Massage Wands
Proper technique is key to getting the most out of a facial wand, and each tool is slightly different, so be sure to read the instructions that come with yours before using. For the Kansa wand, for example, you want to use it in small, circular movements over the forehead, along the brow bones, at the temples and down the jawline to release tension and aid in lymphatic drainage, while Angela Caglia recommends gliding her rose quartz rosebuds in very gentle, outward strokes across the face, neck and décolleté.
Shop facial massage wands:
MICRONEEDLING TOOLS
For the uninitiated, microneedling is the process of poking holes in the top layer of the skin with a series of needles as a way to encourage the production of skin-plumping collagen and elastin. Many dermatologists offer it as an in-office treatment and favor it for its skin-smoothing and tone-evening benefits. Additionally, Mashell Tabe, an esthetician who specializes in the treatment, says microneedling can help skin-care products to absorb into skin more effectively. There are, however, drawbacks to seeing a pro the procedure: It can be both painful and costly, with individual treatments ringing in at $250 per session (multiple sessions are usually recommended for best results).
THE PROS AND CONS OF AT-HOME MICRONEEDLING DEVICES
There are tons of at-home microneedling devices (most look like rollers with tiny needle spikes on the part that touches the face) on the market that cost much less, but come with their own set of risks. "When I do microneedling procedures, I put on numbing cream, everything has to be sterile, and it's disposable," says Mattioli of the treatment she provides her clients. "I can't believe that some of these at-home devices are legal over-the-counter. I've seen people really overuse them, and they cause more problems than they're worth." 
Mattioli also pokes some holes (pun intended) in the product absorption theory. "Skin care is formulated so well these days, and the technology is so much better than it was in the past, that you don't always need to increase penetration." She also has concerns about the type of skin-care products people are using in conjunction with at-home microneedlers, adding, "We're using so many more active things these days, and the last thing you want to do is roll your face with needles and then put on an acid or a retinol."
HOW TO USE MICRONEEDLING DEVICES AT HOME
Despite her concerns, Mattioli gets the appeal of the devices. "Some people really like the way their skin feels after they use it," she says. Unfortunately, that can lead to them going overboard with the tool and creating a constant state of inflammation in the skin. "I see blogs and hear from people that are using these rollers twice a day, but you really want to use them sparingly, and you want to make sure you're getting one with very, very, very short needles that you can barely feel." 
A good rule of thumb for frequency is to use a microneedler no more than three times per week, and for needle length, Mattioli advises sticking with ones that are no longer than .25 millimeters. "Anything longer than that should be left to a professional," she says. "I also don't recommend using any type of super-active skin care on top of it. After you roll, you're going to use something like an antioxidant serum or hyaluronic acid. Don't use alpha hydroxy acids, don't use retinols — that's just too much."
Shop microneedling tools:
MICROCURRENT DEVICES
Microcurrent technology has been used as a medical treatment to help damaged tissues and muscles since the 1800s, but it had the added side effect of making patients' skin look smoother, which helped it become one of the first "high-tech" facial treatments. Now, celebrity facialists like Joanna Vargas and Tracie Martyn rely on the technology to get their clients ready for the red carpet. It works by emitting a gentle electronic current that is believed to tone up the skin by energizing cells and stimulating collagen — with zero pain or downtime.
THE PROS AND CONS OF AT-HOME MICROCURRENT DEVICES
While at-home microcurrent devices have been growing in popularity, they aren't nearly as powerful as the ones you find at a dermatologist's office or at a spa. "That's the difference between a custom treatment and something you're doing at home," says Mattioli. "But the at-home ones are definitely not dangerous, and you totally can use them. For the lower jawline and the upper eyelid, I think they're great." But microcurrent is also something you have to be consistent with for it to work. So it'll work initially, but for the results to last for a prolonged period of time, you want to use it every few days.
HOW TO USE MICROCURRENT DEVICES AT HOME
Each at-home microcurrent device is a little different. Some incorporate both light therapy and electro-current technology; others need to be used with special conductive gel, so it's important to check the instructions carefully. The good news is that they're all fairly easy to use, and shouldn't cause any pain or irritation. You will, however, need to remember to use the device. "Microcurrent is something you have to be consistent with for it to work," says Mattioli. "You may see a change in your skin after a single use, but in order for it to last longer, you'll need to use it ever few days."
Shop microcurrent devices:
LED DEVICES
When you think of LED, or Light Emitting Diode, therapy, it probably calls to mind some crazy-looking Instagrams of people wearing full face-covering masks with glowing red or blue lights behind them. And while, yes, the treatment du jour has gone viral on social media thanks to celebrities like Jessica Alba and Kourtney Kardashian, NASA actually used LED technology in plant growth experiments on board the Space Shuttle in the '80s, so you know there is some serious science behind it. 
Los Angeles-based dermatologist Dr. Annie Chiu explained it to us back in May like this: "When used consistently, over time, LED lights are thought to penetrate your skin at different depths and cause various reactions in your skin, such as fighting acne-causing bacteria, plumping skin and reducing wrinkles." She noted that the most common LED lights for skin care are blue and red, though pink and white exist as well, adding that "blue light kills bacteria that causes acne and red stimulates collagen production and helps speed skin's natural healing process."
THE PROS AND CONS OF AT-HOME LED DEVICES
We'll give you the good news first: There are loads of at-home LED devices on the market, ranging in price from less than $20 to upwards of $2,000, and there's very little harm you can do to yourself with any of them. "They're definitely not dangerous, they actually work and it's not weird science," says Mattioli. Even the power of the lights tends to be the same in a handheld device as at the office, provided it's programmed correctly, she adds. Now for the less-great news: The LED machines you'll find in an office have thousands of lights, whereas most of the at-home ones have fewer than 30. "That difference is obviously going to affect your skin and your skin results." Mattioli recommends looking for LED devices that are both FDA-approved and have the most number of lights you can find, which does oftentimes rule out the cheaper options.
HOW TO USE LED DEVICES AT HOME
How long and how often you need to use an LED device at home depends on both the tool itself (consult the instruction manual) and what you're trying to treat. "If you're treating something like fine lines and acne marks, you're going to want to be using it consistently," says Mattioli, "but you're using LED just to treat a blemish, like a blue LED for an anti-bacterial effect, that's something you can do just once in a while and be fine."
Shop at-home LED devices:
DERMAPLANING TOOLS
Dermaplaning is a method of exfoliation in which the dead skin cells and peach fuzz are scraped off the face in order to reveal the glowing skin underneath. "Dermaplaning is great for people who can't use chemical exfoliants because their skin is so sensitive or they're on something like Retin-A," says Mattioli. It also a good way to remove facial hair that doesn't respond well to lasers, she adds. While dermatologists and estheticians perform the popular procedure by carefully scraping the skin with a scalpel and some people swear by shaving their face to get a similar result, Mattioli says the dedicated at-home dermaplaning devices on the market are better bet if you're going to go the DIY route.
THE PROS AND CONS OF AT-HOME DERMAPLANING
"Honestly, this is one of those things that you can easily do at home for a fraction of the price of what it costs to go to a pro to have done, and it's just as good," says Mattioli. "You can't cut yourself, it's super hygienic, and it literally works the exact same as the in-office treatment." Like with shaving, some people worry that dermaplaning will cause their hair to grow back thicker or darker, but Mattioli assures us that's case. "It grows back the same as it did before."
HOW TO USE AT-HOME DERMAPLANING DEVICES
Each tool is different, so follow the guidelines on the box. To use Mattioli's favorite, the Dermaflash, you slide a new "edge" into the device before each use. Then hit the power button and hold it at a 45-degree angle just above the skin and use short, feathery strokes wherever you want to dermaplane. Mattioli likes to use it weekly. As with any exfoliation, make sure to apply sunscreen after dermplaning because skin can be even more susceptible the sun's rays.
Shop dermaplaning tools:
Please note: Occasionally, we use affiliate links on our site. This in no way affects our editorial decision-making.
Never miss the latest fashion industry news. Sign up for the Fashionista daily newsletter. 
Source: Fashionista