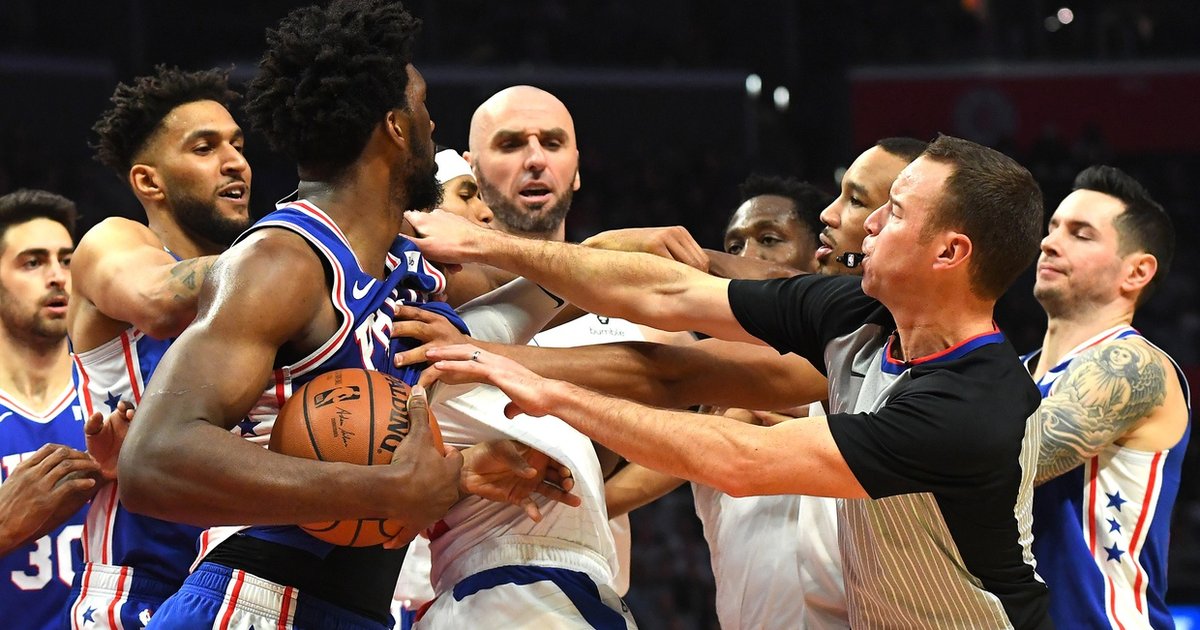 It's not often you see a game between the Sixers and the Los Angeles Clippers turn into a hostile environment, but there was bad blood aplenty in Philadelphia's New Year's Day win over L.A. A pair of ejections for Avery Bradley and Jimmy Butler really sent things into overdrive, and the Sixers were barely able to hang on without Butler, sputtering to a 119-113 win.
They will certainly take it, in any case. Butler's scuffle with Bradley was not the only dust-up of the night, with Joel Embiid and Patrick Beverley almost engaging in the most lopsided battle of all-time. The animosity worked in the Clippers' favor — a game that looked to be a comfortable win devolved into a real slopfest, only saved by the combined powers of Philadelphia's two young stars.
Here are a few thoughts on the game.
The Sixers are a much better team with Joel Embiid, duh
It is remarkable how much different the Sixers look with the big man on the floor. He came out and absolutely ate the Clippers alive in the first half, roasting their rotation of big men with a classic array of moves. They bit on rip throughs, they were too weak to challenge him in the post, or they were just too damn slow to do much about him.
On the last note, I thought this was the first time that Embiid really responded well to a matchup with Boban Marjanovic. The giant Serbian has perplexed Embiid at times in the past, with Embiid not quite knowing how to deal with someone that's larger than he is. It's an understandable phenomenon — when you're used to bullying everyone, it takes time to figure out what to do when you lose that ability.
Embiid seems to have solved the Boban puzzle, even if he didn't shoot his best against him. Rather than trying to overpower him, Embiid hit him with speed moves and used his athletic advantage to get past him.That's a smart recognition on his part and a sign of his basketball maturation that he is beginning to develop counters and play differently depending on the matchup.
While many have pointed to his fitness as the base of Embiid's success this season, it's that mental sharpness that has helped him bully all sorts of opponents this season. He still settles for some tough jumpers that I'm sure Brett Brown would love him to scale back on, but his awareness overall has improved substantially.
Now if he could just do something about these second-half swoons…
That Embiid outburst at Simmons was… interesting
This was the most interesting part of the game for me, easily. We have seen Simmons and Embiid fight for a few rebounds this year, but it was quite clear Embiid took exception on this one (warning: colorful language):
I have never been part of the camp that is obsessed with the idea of whether these two are BFF. I do think they need to be able to be in sync together on the floor, though, and that extends far beyond whether Simmons develops a jumper or not. Sports chemistry is about knowing where guys are going to be and when without having to say a word, not tripping over each other on plays that should be routine.
Their postgame comments were a little icy. Embiid couldn't help but mention it during a postgame interview with Serena Winters, and then tried to laugh it off:
Simmons was then asked about the play specifically, and he didn't offer much (though that is pretty standard for him).
"I don't know," said Simmons. "Coach tells me to crash the boards, so I just went to the boards."
Embiid would go on to dismiss it as a basketball play during his postgame availability and say there was nothing to talk about, and maybe he is indeed that protective of his face after suffering the injury that cut short his regular season last year. But while we see plenty of Embiid emotion on the court, it's not often that we see Simmons fall inside his crosshairs. Something to monitor.
(And since we're on the subject of bad blood, here are a couple videos of the real scuffles last night.)
Surprise, a legitimate Ben Simmons jumper!
Back to basketball — I don't think we've seen a jumper like this from Simmons all season, or perhaps even in his NBA career. With plenty of time left on the shot clock, he decided to pull one from mid-range with a defender nearby.
I'm not in the business of doling out participation trophies for doing something any ordinary basketball player can do, but I've asked for Simmons to expand his range quite frequently, so I'm certainly not going to complain when we get it.
It was a fairly ordinary night from Simmons outside of this play, and by ordinary I mean it was a roller coaster of emotions that showed all his strengths and weaknesses at once. He carved up the Clippers in transition, and then he missed a two-foot hook shot that barely hit the rim as people try to insist he doesn't need to learn to shoot. He missed three consecutive free throws in the final minute of the game, and then threw an inbounds pass off the back of Sindarius Thornwell for what would turn into a dunk.
Simmons remains one of the weirdest young talents in the game. The Sixers downright fell apart down the stretch of this game, and some of that can be attributed to the always wonky fit with Embiid. It certainly did not help to lose Butler for the end of the game after his dust-up with Avery Bradley, with Brown turning to T.J. McConnell in his spot for some odd reason. Putting two players on the court that teams don't respect as shooters is pretty unhelpful.
Perhaps one day we'll get to a point where every jumper he decides to take isn't a storyline.
Jonah Bolden may play himself into the rotation, for real
I have been pretty skeptical of the Bolden experience so far, primarily because we have not seen a whole heck of a lot from him as a shooter. If he's going to get minutes as a power forward, he needs to be more of a threat as an outside shooter.
But boy does Bolden look like he's ready to help this team on the defensive end. Putting Bolden on the floor in a position where he's able to attack shots as a weakside shot blocker is the best spot for him right now because he's a little too overzealous to be the last line of defense as a five. Leaving him to roam and make late contests is working wonderfully, and he has done a great job of sending help when necessary.
He's also making an impact as an offensive rebounder. Bolden snagged five more of those against Los Angeles, and with teams worried about Philadelphia's other great rebounders at the end of possessions, he's going to be left free to turn garbage into gold, as the great Marc Zumoff would say.
This putback dunk gave Jonah Bolden a new career-high of 9 points (4/4 FG, 1/1 3pt), to go with 6 rebounds and a block, in 15 minutes off the bench. The rookie is slowly but surely working his way into the regular rotation. pic.twitter.com/KydB1kcRUP

— Olgun Uluc (@OlgunUluc) January 2, 2019
There are some things to clean up, primarily the tendency to go after every shot-blocking opportunity as if it's the last one that will ever exist. That's a symptom of his youth, though, and the numbers all suggest he's making an impact. The Sixers have been elite defensively with Bolden on the floor, giving up just 97.7 points per 100 possessions. That probably doesn't hold, but he brings an element of athleticism and tenacity they've desperately needed.
New year, new rotation?
Speaking of cracking the rotation, the experimentation is probably far from over for Brett Brown. Bolden taking advantage of his opportunity on the West Coast trip will alter the big-man rotation, and Mike Muscala was the primary victim in the minutes game on Tuesday. Muscala only saw the floor for 12:43 against L.A., down almost 10 minutes from his season average.
It's a shame it has taken this long for that to happen, but the use of Bolden provides a blueprint for some changeups elsewhere. Why not give Shake Milton a larger opportunity to earn minutes? The Sixers desperately need to get more out of their bench, and sticking with the same group through thick and thin probably isn't going to change that. Yes, they need to build continuity down the stretch, but they need to find a playable group in the first place.
That would probably be my biggest overall gripe with the head coach, and it's a habit that dates back years. He is very methodical in making changes to the rotation, often to the detriment of himself and the team. Brown leaning on McConnell isn't surprising at this point, but it would be nice to see Brown throw different looks out there that work better next to Embiid and Simmons.
I suppose I just think that's a more common coaching problem than people think. Every coach has the guys they trust, and it takes a while for young players to earn their way into that position.
Returns for Markelle Fultz and Zhaire Smith loom on the horizon. How the head coach decides to use them, assuming he gets the chance, will help define the second half of the season.
---
Follow Kyle on Twitter: @KyleNeubeck
Like us on Facebook: PhillyVoice Sports
Add Kyle's RSS feed to your feed reader
Source: "Los Angeles" – Google News