30 Teams | 30 Weeks NBA: #23 Los Angeles Clippers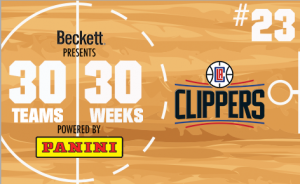 The Los Angeles Clippers are team No. 23 in the Panini 30 Teams | 30 Weeks NBA countdown to the most collectable NBA team of all time.
Many of the players on this Clippers team were on the "Lob City" team from the past decade, like Chris Paul and Blake Griffin. Those two, along with DeAndre Jordan and others, provided Los Angeles with the longest sustained period of success in the team's history. But this team also has a player from the Buffalo Braves days and players from other eras as well.
Check out the Clippers and the rest of the teams in the countdown at 30Teams30WeeksNBA.com.
Source: "Los Angeles" – Google News