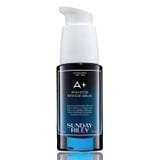 Here's something you can do to look and feel better in the New Year that doesn't put you at risk of pulling a hammy in an overcrowded yoga class: upgrade your skin care routine. (Gym membership need not apply; results guaranteed.)
Beauty brands are also "starting fresh" right now, waiting until the beginning of January to launch their biggest, most innovative products of the year – meaning you can save all those bicep curls for the days you want to pick up the latest face creams, cleansers, and treatments. Not sure where to start? We've asked POPSUGAR beauty editors to share their favorite new skin care formulas hitting the market in 2019, so you don't even have to move a muscle.
We feel healthier already.
Source: POPSUGAR Beauty