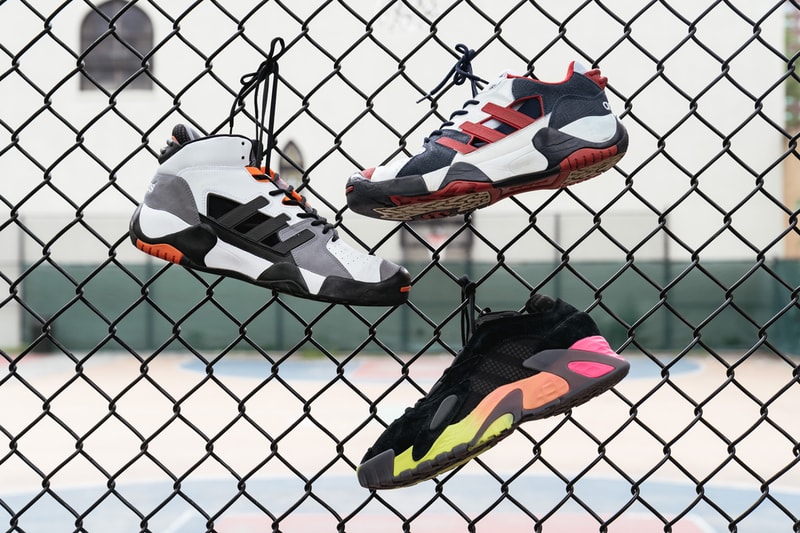 This past Saturday, August 10, adidas hosted the Streetball Challenge — a three-on-three basketball tournament at New York City's Brooklyn Bridge Park, pitting the most notable names in sneakers, sports and fashion — including Concepts, Extra Butter and Slam — against one another for both cash prizes and bragging rights. With Rucker Park's world famous MC, Hannibal, electrifyingly calling two half-court games simultaneously, adidas chose the mecca of street hoops to not only pay homage to the game, but to revive its cult-favorite outdoor basketball sneaker, the aptly-named Streetball.
"We wanted to create a collection which celebrated the grassroots side of basketball, away from the gloss of the NBA," adidas Senior Designer Pradeepan Indrakumar tells HYPEBEAST in an exclusive interview. "Like the game being played in the real world, becoming a meeting point for neighborhoods and bringing people together in its rawest form."
Indrakumar tells us that the German sportswear brand first got the idea to bring back the Streetball in 2017; watching pick-up games at Rucker and The Cage reminded him of the intensity and aggression of street hoops. "There aren't that many outdoor basketball shoes out there in the market that compare to the indoor versions, so with a lot of people playing on asphalt using all sorts of sneakers, we felt that now is the time to dig into our archives and reinvent Streetball for this generation," he explains.
"We wanted to create a collection which celebrated the grassroots side of basketball, away from the gloss of the NBA."
To be more specific, 2019's Streetball aims to reintroduce players to the glory and creativity of outdoor hoops, while the original 1992 Streetball helped introduce an entire continent to street basketball.
Prior to the international influence of Michael Jordan and the 1992 Dream Team, basketball in Europe was a club sport; it was organized with proper playing times, training hours, age groups, coaches and the like. It was not something underprivileged kids typically played, as explained by Ernst-Heinrich Beckmann, a longtime writer, editor and historian on sneaker culture, who is also based in adidas' home country of Germany. "[Then] the media told stories of American kids who became NBA stars just by playing unorganized basketball on the streets," recounts Bechmann. "Stories of famous street basketball players in the U.S., as well as the success of the movie White Men Can't Jump, showed that you can play basketball without being part of those club teams."
Before the launch of the original Streetball in 1992, adidas built its basketball division in the '60s with the now-iconic Pro Model and Superstar silhouettes, the latter of which was worn by the NBA's all-time scoring leader, Kareem Abdul-Jabbar. In the '70s, adidas' popular "Shelltoe" sneaker faced competition from PUMA's Clyde, but still maintained a strong hold on the American basketball footwear market. The '80s however brought back Converse, the original basketball shoe brand, and its Weapon, worn by Larry Bird and Magic Johnson. Meanwhile the young and irreverent Nike took the industry into the future with models like the Dunk, Air Force 1 and, of course, the Air Jordan 1.
As the '90s began, the NBA was just beginning to evolve into the fast and powerful game that it has become today. Fearful of falling out of an increasingly profitable market, one it helped define so many years ago, adidas looked to the growing popularity of street basketball to reinvigorate the brand. It realized the lifestyle behind this subculture was just as important as the game itself and launched the first-ever Streetball as MJ, Bird, Magic and others were showing the world the beauty of their beloved sport. The brand organized streetball events all over Germany and Europe, complete with the aforementioned shoes, apparel, pins and mixtapes with the music that the DJs played. There were even pop-up eateries that sold American food like popcorn, hamburgers, hot dogs and the like. "adidas sold the whole American lifestyle and we loved it," says Beckmann.
"The 'Streetball Challenge' in 1992 was a success. The Dream Team in the 1992 Olympics in Barcelona and the German basketball national team winning the European Championship in 1993 made basketball and streetball huge [in Europe]," echos Beckmann.
"The Streetball 2 was everywhere in those days. Club team players played them as well as streetballers, even people with no basketball background wore these shoes. The shoes had become a lifestyle object."
"The 'Challenge' got bigger every year," continues Beckmann. "adidas hosted more and more tournaments, going into smaller cities, too. They started with a couple thousand participants across [Germany] and had more than 50,000 ballers at its peak in the late '90s. In 1995 more than 500,000 spectators followed the tour per year and the final round was shown live on television. It was a huge success."
Soon the Streetball was seen on the feet of young hoopers dribbling through their neighborhoods in search of friendly competition. Then, when the Streetball 2 came around with an even chunkier silhouette, metal-heads and hip-hoppers adopted the sneaker for its rebellious roots. "The Streetball 2 was everywhere in those days," recalls Beckmann. "Club team players played them as well as streetballers, even people with no basketball background wore these shoes. The shoes had become a lifestyle object."
Best of all, the Streetball 2 was an exceptional sneaker that excelled at its core function. "Its sole was made of a durable rubber, which was one of the most important aspects for us," reminisces Beckmann. "It also had a good responsive cushioning and the high-top version was very supportive. The Streetball 2 provided enough traction to perform well on concrete and it had a comfy fit. All in all, it was for sure the best outdoor basketball performer of its time."
Unfortunately however, the later iterations didn't perform nearly as well on the retail shelves, eventually landing at outlet stores and subsequently discontinued. Then, while Nike was running away with the market in its grasp, adidas bounced back in the late '90s and early 2000's, singing superstars like Kobe Bryant, Kevin Garnett and Tracy McGrady, and thus becoming, as Beckmann puts it, "the second most relevant brand selling basketball shoes." And that's pretty much where we still are — Nike's No. 1 and adidas is No. 2.
Fast forward to Saturday, and we're now in a time in which streetwear is no longer a crude subculture of fashion — it dominates the industry, driving changes in design, retail, e-commerce, marketing and more. Along with the growing popularity of basketball, adidas felt now is a better time as any to relaunch the Streetball line.
"It makes sense for Originals to revitalize Streetball using today's cultural energy, combining with adidas archive's D.N.A. – past empowering the future," remarks Indrakumar. "In a market of constant change, it's an opportunity to inject more art and culture to give Streetball a heartbeat amongst a sea of fast-paced hype product, and I believe our color, graphics and apparel have really driven this ethos for the entire collection."
"It makes sense for Originals to revitalize Streetball using today's cultural energy, combining with adidas archive's D.N.A. – past empowering the future."
Just as adidas has done with its BYW — Boost You Wear — line, 2019's Streetball recontextualizes the original with a touch of "abstract futurism," while keeping its purpose sport-focused. At first, the design team took inspiration from Christopher Nolan's version of the Batmobile — "a big, chunky battle tank with superhero maneuverability." However early sketches had the sneaker looking "too cumbersome and predictable," says Indrakumar. "It was as if we were subconsciously playing into what an outdoor basketball shoe typically looks like — big overlays, protective rubber bumpers and chunky straps."
After several different versions made their way to designers' sketch pads, adidas landed on a "faster-looking" silhouette, mixed with 3/8th proportions and industrial detailing. "That's also why we used our new Litestrike midsole — a lightweight compound with excellent rebound — so that we can keep the shoe feeling dynamic on foot."
And what would be an outdoor basketball sneaker without best-in-class traction? "We looked at mountain bike tire lugs and paired that with the lug spacing on trail running shoes to grip both asphalt and loose debris."
Additional details include anti-scuff padding on the forefoot, molded eyelets, a mixed suede and leather for added durability, open mesh for breathability, and a padded window at the lateral forefoot that protects wearers from opponents who tread on their foot.
With all of these performance features in mind, Indrakumar does reiterate that "it's still a lifestyle sneaker at heart," thanks to the sleek, angular shape, bold colorways, and mix of materials. "We wanted to make a shoe which balances finely between the world of style and function, whilst appealing to the consumer who plays outside and to the consumer who has little or no interest in the game, but appreciates the attitude of this sneaker. Sport and culture influencing each other to become one identity."
The adidas Originals Streetball is currently available in three colorways — black, white and orange — at select retailers around the globe for $110 USD. A larger release is slated for September.
adidas also plans to bring the Streetball Challenge to Los Angeles on August 24, with an open-to-the-public qualifier scheduled for August 18. Teams must register via the EventBrite sign up page.
Click here to view full gallery at HYPEBEAST