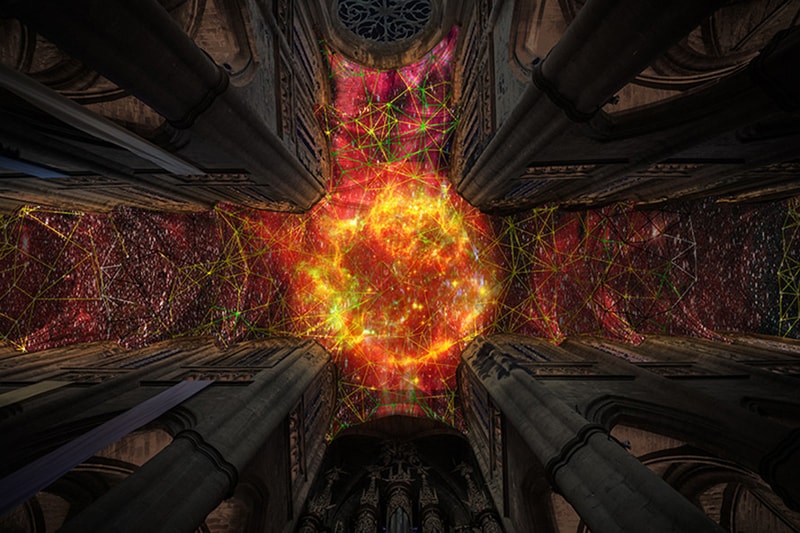 Acclaimed French artist Miguel Chevalier will unveil a monumental installation at the Rodez Cathedral in France made in collaboration with the Century Moulages and IN SITU. Entitled "Digital Supernova," Chevalier will project 30 unique meshes of colored light onto the Gothic arches of the historic establishment spanning 30 meters long. More precisely, the immersive experience will display "imaginary sky maps" comprised of "images of luminous explosions of massive stars and remnants of supernovas," as per the artist in a statement. The artist is working with astrophysicist Fabio Acero to accurately depict the cosmic phenomena.
"Visitors are invited to walk around the cathedral, sit on the chairs and look up to heaven. These digital constellations of pixels immerse visitors in an atmosphere bathed in light and open on the infinite," said the artist.
View select renders above and stay tuned for final installation imagery. "Digital Supernova" will run through August 8-18. Visit Miguel Chevalier's website for further details.
Elsewhere in art, a new study suggests that "gloomy and dystopian" artworks don't necessarily inspire action on climate change.
Rodez Cathedral
Rue Frayssinous
Rodez, France 12000
Click here to view full gallery at HYPEBEAST