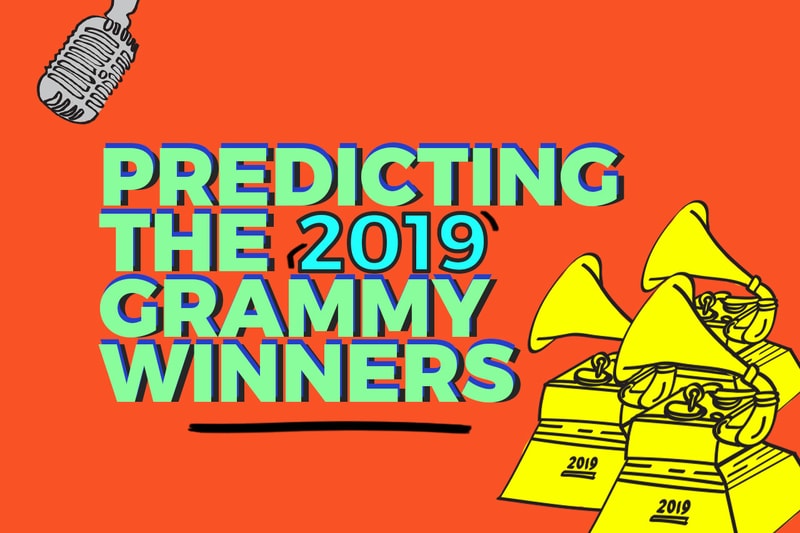 It's that time of year again: the Super Bowl of the music industry. The Recording Academy will air its 61st annual Grammy awards ceremony at 8 p.m. EST this Sunday, live from the Staples Center in LA. Here, some of your favorite stars will be vying for the chance to see their names called and their lives changed forever. If they win, they'll not only be able to call themselves a Grammy-winning artist in every press release, but also make even more outlandish rider requests like bike valets, a framed photo of Princess Diana or 20 white kittens and 100 doves.
While this year's nominations weren't perfect (and they never will be), they do include some of the better selections in recent years and ought to make for a fascinating show. Keep in mind that these nominations represent material released from Oct. 1, 2017 through Sept. 30, 2018, which means Bad Bunny will have to wait until next year to get his due. The HYPEBEAST Music writers — Emmanuel "Manny" Maduakolam and Patrick Montes — have shared their predictions on who will win, and who should win, the major Grammy categories — while also noting who may have been left out of the nods.
Album Of The Year
Cardi B – Invasion Of Privacy (Manny) (Patrick)
Brandi Carlile – By The Way, I Forgive You
Drake – Scorpion
H.E.R. – H.E.R.
Janelle Monáe – Dirty Computer
Kacey Musgraves – Golden Hour
Post Malone – Beerbongs & Bentleys
Various Artists – Black Panther: The Album
Manny: The album of the year should go to Cardi B. Janelle Monáe probably had the most thought-provoking body of work; H.E.R. and Kacey Musgraves both saw their projects catapult them into superstardom; Post Malone had monster singles; Drake was consistent; and Black Panther: The Album was a solid body of work. However, no one has had a bigger impact on music in 2018 than Cardi B. She not only deserves to win Album Of The Year, but Invasion of Privacy is quite frankly the best body of work.
Patrick: Cardi B is the biggest breakout star in recent months, and this was her breakout album; it's definitely her time to shine right now. She's the one hogging the spotlight right now, and it's going to be quite sometime before her light begins to fade.
Record Of The Year
Cardi B, Bad Bunny, & J Balvin – "I Like It"
Brandi Carlile – "The Joke"
Childish Gambino – "This Is America"
Lady Gaga & Bradley Cooper – "Shallow"
Drake – "God's Plan" (Manny) (Patrick)
Kendrick Lamar & SZA – "All The Stars"
Post Malone & 21 Savage – "Rockstar"
Zedd, Maren Morris, & Grey – "The Middle"
Manny: This is probably the toughest category of the year. There are arguments for the majority of the songs here, but it's a race between Childish Gambino, Lady Gaga & Bradley Cooper, Drake and Kendrick Lamar & SZA. I can see "Shallow" winning because of the cultural impact it made, but looking more objectively, both the song and video for "God's Plan" stand above the rest.
Patrick: Love him, hate him, or simply stuck with listening to him when you're in the club or car, Drake is at the top of the rap game right now. Not even Pusha T's most scathing, venomous performance could hurt his commercial dominance. "God's Plan" epitomizes the modern era's "viral hit," and it'd be difficult to think of a more Grammy-friendly crossover record.
Song Of The Year
Brandi Carlile – "The Joke"
Childish Gambino – "This Is America"
Drake – "God's Plan" (Patrick)
Kendrick Lamar & SZA – "All The Stars"
Lady Gaga & Bradley Cooper – "Shallow" (Manny)
Ella Mai – "Boo'd Up"
Shawn Mendes – "In My Blood"
Zedd, Maren Morris, & Grey – "The Middle"
Manny: Song of the year is the award that focuses on songwriters; art before accolades. With that in mind, "Shallow" should and will win. That song will give you goosebumps for the next century.
Patrick: Once again, Drake reigns supreme. However, even though Sada Baby isn't nominated, I can only dream he comes out of nowhere like a steel chair-wielding Stone Cold Steve Austin — circa WWE's Attitude Era — and hijacks the win for "Bloxk Party," the rightful Song of the Year.
Best New Artist
Chloe x Halle
Luke Combs
Greta Van Fleet
H.E.R.
Dua Lipa (Manny)
Margo Price
Bebe Rexha
Jorja Smith (Patrick)
Manny: Dua Lipa is most likely going to win because she has a litany of hit songs under her belt, but in all honesty, it's hard to consider her, Bebe Rexha, Chloe x Halle or H.E.R. as new artists when they've been putting out bodies of work for years. I would rather have them replaced by truly new and impactful acts from this year such as Snail Mail, Tierra Whack, Soccer Mommy or Juice WRLD. That being said, Lipa will win, but I'm pulling for Jorja Smith or H.E.R. to bring it home.
Patrick: When it comes to new artists who can tow the line between critical respect, artistic admiration and widespread commercial success, Jorja Smith is the queen. Out of all of the performers nominated for Best New Artist, you would be hard pressed to find a better candidate. However, the real Best New Artist ought to be a tie between ALLBLACK, 03 Greedo and Drakeo the Ruler, even though Drakeo and ALLBLACK have been active for a few years.
Best Alternative Music Album
Arctic Monkeys – Tranquility Base Hotel + Casino
Beck – Colors
Björk – Utopia (Manny)
David Byrne – American Utopia
St. Vincent – MASSEDUCTION (Patrick)
Manny: If Björk's Utopia doesn't win, we should riot.
Patrick: This award was pretty much made for St. Vincent's project. However, with guitar-based music at an all-time creative low, there aren't too many solid contenders for this list.
Best Rap Album
Cardi B – Invasion Of Privacy
Mac Miller – Swimming
Nipsey Hussle – Victory Lap
Pusha T – Daytona (Manny)
Travis Scott – Astroworld (Patrick)
Manny: So this is tricky and may be hard for non-hip-hop enthusiasts to understand. Cardi B's Invasion Of Privacy should win Album Of The Year, but Best Rap Album is Pusha T's Daytona. It's seven songs of hip-hop perfection, a 21-minute paradigm on how to rap. Not only is it Pusha's best work, but it would make up for when he didn't win for 2006's Hell Hath No Fury. Mac Miller is a close second and it kills me he's not here to be celebrated for putting out one of the best projects of the year. R.I.P. Mac.
Patrick: Nipsey Hussle should win both this category and Album Of The Year. However, I'd put my money on Astroworld taking the top spot, with Daytona at a close second. It's time to start considering Nipsey Hussle when we have conversations about the West Coast GOATs.
Best Rock Album
Alice In Chains – Rainier Fog
Fall Out Boy – M A N I A
Ghost – Prequelle
Greta Van Fleet – From The Fires (Manny)
Weezer – Pacific Daydream (Patrick)
Manny: Greta Van Fleet is going to win. That's all I got.
Patrick: Rock music is on life support, and this year's list of contenders for Best Rock Album pretty much proves that. Considering the way critics and casual fans have fawned over them in the past, I think Weezer has the best shot at winning this one.
Best Pop Vocal Album
Camila Cabello – Camila
Kelly Clarkson – Meaning Of Life
Ariana Grande – Sweetener (Manny) (Patrick)
Shawn Mendes – Shawn Mendes
P!nk – Beautiful Trauma
Taylor Swift – Reputation
Manny: It's really a toss-up between Ariana or Camila. My money is on Ariana Grande. Sweetener is the better album but do her recent controversies — tattoo fiasco, "7 Rings" backlash, "Break Up With Your Boyfriend, I'm Bored" video — mean people are starting to turn on her? Probably not enough to hurt her Grammy chances.
Patrick: Ariana Grande has been everywhere in the past 12 months and proven herself as one of the pop genre's most successful young superstars. As Sweetener shows, her profile is only going to soar from here on out.
Best Urban Contemporary Album
The Carters – Everything Is Love (Manny) (Patrick)
Chloe x Halle – The Kids Are Alright
Chris Dave And The Drumhedz – Chris Dave And The Drumhedz
Miguel – War & Leisure
Meshell Ndegeocello – Ventriloquism
Manny: Miguel's War & Leisure should win, but The Carters are more likely to pull the victory.
Patrick: Like Manny said, Miguel's War & Leisure deserves to win this. However, The Carters will win because the Grammy Illuminati says so.
Best Country Album
Kelsea Ballerini – Unapologetically
Brothers Osborne – Port Saint Joe
Ashley McBryde – Girl Going Nowhere
Kacey Musgraves – Golden Hour (Manny) (Patrick)
Chris Stapleton – From A Room: Volume 2
Manny: Kacey Musgraves by a mile. Go see her live in 2019.
Patrick: Kacey Musgraves is the "cool" country artist for Respectable Music Fans and Pitchfork Readers in 2019, right? She'll probably win.
Best Metal Performance
Between The Buried And Me – "Condemned To The Gallows"
Deafheaven – "Honeycomb" (Manny)
High On Fire – "Electric Messiah" (Patrick)
Trivium – "Betrayer"
Underoath – "On My Teeth"
Manny: I stumbled onto Deafheaven "Honeycomb" while in a three-hour long YouTube dive in the middle of a Saturday afternoon last summer. That song is absolutely fantastic.
Patrick: This is a close battle between High on Fire and Deafheaven, but I'm going to have to go with High on Fire's "Electric Messiah." To put it eloquently, that shit slaps. Also, why are Trivium and Underoath here?
Best Music Video
The Carters – "APESHIT"
Childish Gambino – "This Is America" (Manny) (Patrick)
Joyner Lucas – "I'm Not Racist"
Janelle Monáe – "PYNK"
Tierra Whack – "Mumbo Jumbo"
Manny: Childish Gambino "This Is America" is the only choice for Best Music Video, period. Like, c'mon now, just stop even thinking about another choice.
Patrick: Yup, Childish Gambino is going to take this one for sure.
Click here to view full gallery at HYPEBEAST
Source: HYPEBEAST