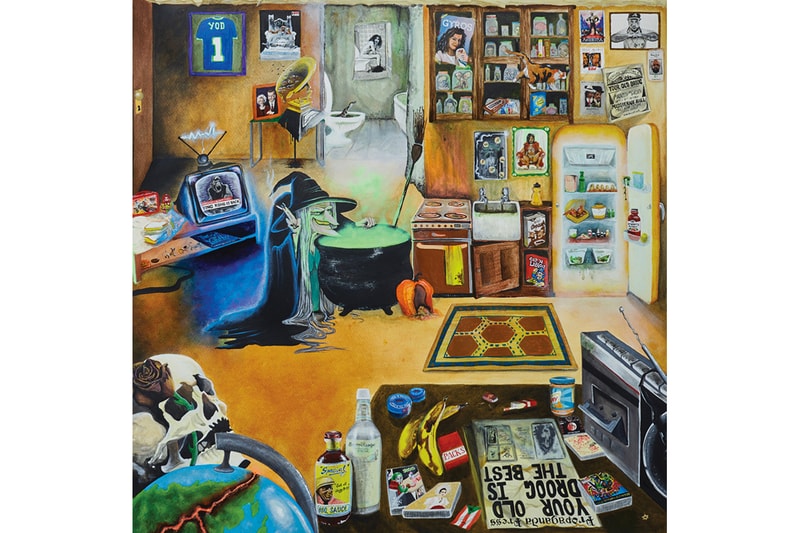 Ukrainian-born and New York-based lyrical titan Your Old Droog is one of those artists that has starkly implanted himself within the sonic ethos that placed East Coast hip-hop on the map in the '90s and early 2000s. Retaining the iconic boom bap sound that effectively made New York rap a local specialty, Droog has maintained himself as a grassroots cultural purveyor of New York's scene. Following 2017's studio album Packs, Your Old Droog has returned with his third full-length LP, It Wasn't Even Close.
Staying true to his New York sonic roots, Droog possesses a menacing ability to relay lyrically-witty flows over articulately-sampled instrumentals, maintaining his musical ethos surrounding hip-hop; he prioritizes golden-era sensibilities with a modern twist. Delivering 13-tracks, Droog flows effortlessly alongside smartly-placed features from hip-hop behemoth MF DOOM, fellow masked MC Mach-Hommy, New York legends Wiki and Roc Marciano, and multi-genre artist Lil Ugly Mane.
It isn't surprising that the most favored track is "RST" feat. MF DOOM and Mach-Hommy, proving to be a hip-hop tour de force through lyrical portrayals of the empowered self, describing their artistic superiority through the metaphorical depiction of being King Kong. While much of the album relays Droog's New York roots, tracks like "Tried By 13 (Vaclav Havel)" and "Babushka" still manage to relay his Eastern European origins, culminating in a vision that's remarkably fresh. Other tracks like "World's About To End" and "Ugly Truth (HOMMO Mix)" relay hard sensibilities, with the latter track's beatless outro that features remarkably articulated bars. Without a doubt, Droog is as hungry as ever, pushing forth into old and new territory that prioritizes his poetry as much as his ingenuity. It Wasn't Even Close therefore holds itself as a rare treat in today's conflated world of music, one that prioritizes the often exaggerated, overly artificial aspects of hip-hop — Your Old Droog here shines through his crafty lyricism that showcases his greatness, rather than simply calling himself one of the best.
You can stream Your Old Droog's latest album It Wasn't Even Close below.
For more related news, Lou Phelps and WondaGurl recently shared a video for "Word."
Click here to view full gallery at HYPEBEAST