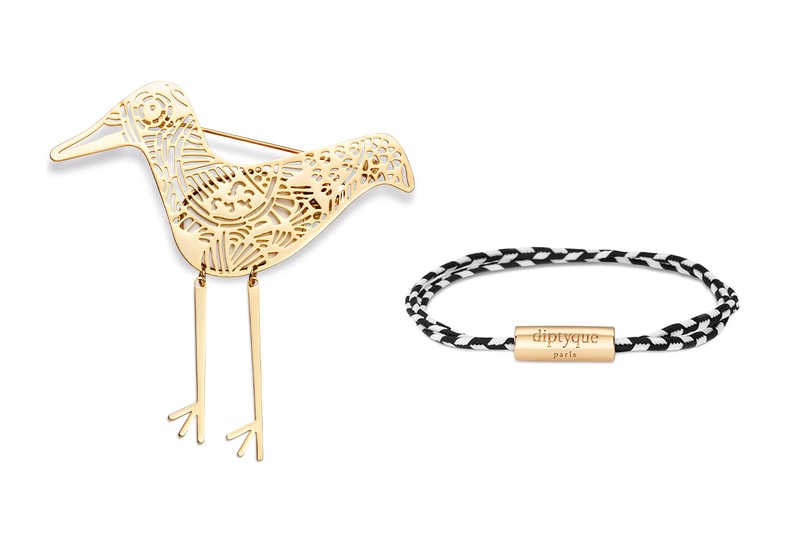 Before bottle perfumes existed, people wore scents on the jewelry on their neck or belt in the Middle Ages – diptyque took inspiration from this historical method to create its latest range. The brand decided that this method could be a more favorable option for those who like subtle scents more than stronger ones.
Kicking off the collection is a bracelet which arrives in a long black and white thread, placed in a black container branded with the perfumer's classic logo. The thread, arriving in the scents Do Son, Eau Rose and Tam Dao, can be wrapped around the wrists as many times as you want, and is held together with a gold-plated clasp. Next up is a golden metal brooch in the shape of a bird, which features a small compartment for pre-perfumed ceramic discs in Do Son, Eau Rose and Fleur de Peau. Finishing off the range is a perfumed sticker, which can be placed on any part of the body such as the wrist, back of the neck or shoulders. With designs inspired by shadow puppets, the wearer can reapply these stickers which come in the scents Eau Rose, Do Son and l'Ombre dans l'Eau.
Would you wear these instead of bottled perfumes? You can head over to diptyque's web store now to purchase the Prêts-À-Parfumer collection, priced from $55 USD to $120 USD.
Click here to view full gallery at HYPEBAE