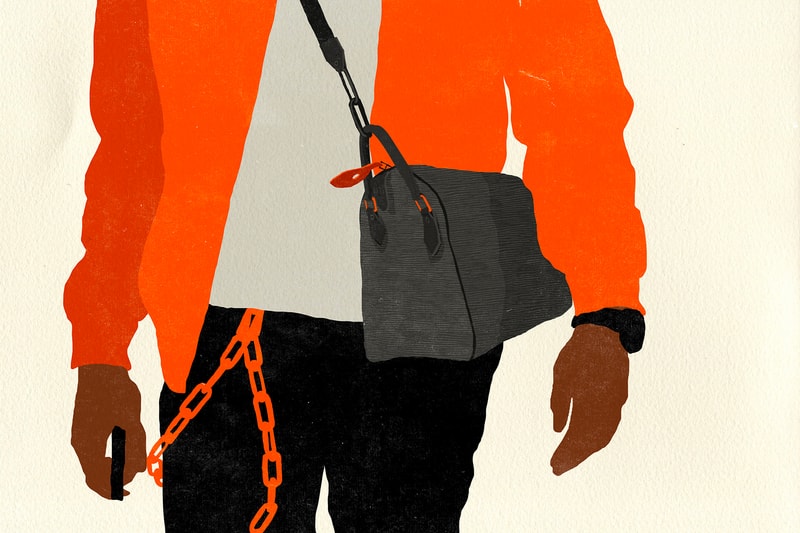 Just about every fashion brand makes bags. Few, however, command the instant name recognition of a Dior Saddle bag or a Fendi Baguette. But if everyone already knows your product, how do you introduce it to a new audience? For Fendi and Dior, the answer is simple — tweak a few details, and sell it to men.
In sending their signature bags down the men's runway, both Fendi and Dior are banking on the fact that today's male customers aren't concerned about being ridiculed for carrying a designer purse. But with the menswear sector continuing to grow in value, it only follows that more brands will want to bring more men into the luxury handbag sector, Sex and the City associations be damned. After all, what is a fanny pack except a purse by another name?
"People always talk that fashion is cyclical, but it's really linear. It keeps evolving," says Graham Wetzbarger, A.J.P., chief authenticator for The RealReal. As Wetzbarger tells HYPEBEAST, many younger millennial and Gen Z male consumers have no qualms about wearing a high-end designer bag. Besides the fact that most are stocked in the women's section, there's nothing that mandates bags needs to be divided by gender. And particularly now that we have — mercifully — moved on from the era of cringe-worthy "man purse" "jokes," it appears younger male customers aren't so concerned about being given "permission" before purchasing a designer purse.
And they're smart to do so; bags are one-size-fits-all, making them a better investment than apparel or sneakers for those looking to purchase items with high resale value. "When this bag launched in 2001, it was $560 USD. Now it's $3,200 USD," Wetzbarger says of the Dior Saddle.
While it's difficult to predict if men will treat bags as a wardrobe essential in the long run, the recent popularity of items like 1017 ALYX 9SM's signature chest rigs and the now iconic Supreme x Louis Vuitton bags have shown that male consumers aren't afraid to spend a good deal of money on a status bag. "If it makes a large enough impact it does stick," The RealReal's menswear expert Dominik Halás explains. "And I think this is definitely making a huge impact."
Though there's nothing stopping men from purchasing an existing designer bag, Fendi and Dior have shown that brands can generate new buzz by taking a popular design from the archives and explicitly marketing it to their male customers. So what's the next iconic bag to get remade for men? With help from Halás and Wetzbarger, we've taken a look at some of the most popular designs from brands ranging from Balenciaga to CELINE to imagine how they might be remade for the menswear market.
Balenciaga City
Launched in 2000 under Nicolas Ghesquière's reign, the Balenciaga City was a staple of early aughts street style. While the bag's motorcycle-inspired aesthetic is very much of its era, it could easily be updated into an on-trend harness-style bag. "There's so much hardware on here already," Halás notes of the bag's many studs and buckles, which could be exaggerated or multiplied on chest and shoulder straps.
But there's a clear distinction between Ghesquière's punk designs for the label and Demna Gvasalia's postmodern aesthetic at Balenciaga; as his now famous IKEA tote exemplifies, he doesn't believe luxury has to mean leather. "I could see [Demna] perhaps keeping the form the same, but playing around with the material," Halás says. "Where it's still the classic shape, it's still recognizable, but it very clearly has his stamp on it." To rethink the bag for men, Gvasalia might swap out the distressed leather for clear PVC or ripstop nylon. Though the City bags didn't originally feature obvious logos, in 2017 the label introduced a version of the bag with "Balenciaga" written in graffiti lettering — why not a City featuring Balenciaga's updated sans-serif logo?
Wetzbarger notes as well that changing the proportions of the City from a short wide silhouette, which is traditionally considered more "feminine," to a taller, "north-south" orientation could instantly make it read as a menswear piece. Part of that visual association is due to the fact that purses have typically been designed to accommodate horizontal wallets sold to women, as opposed to men's wallets, which are traditionally tall and slim in order to slip into a pant or jacket pocket.
Louis Vuitton Speedy 25
Virgil Abloh is not afraid of giving men a purse. If he were to follow his predecessor Kim Jones' lead at Dior, the Louis Vuitton Speedy 25 could be the perfect bag to pull from the archives to rerelease for men.
"I think the Speedy deserves attention. It was their best selling style for decades and it's recently been surpassed," Wetzbarger says. Jones' Fall 2018 Men's collection for Dior included a silver version of the larger-format Speedy 40, more appropriate as a weekender than for daily use, but Abloh has dared to show daintier bags for men. His debut men's collection included his take on the Louis Vuitton Petite-Malle, a mini-version of the brand's signature trunk luggage.
To make the Speedy appealing to men would likely require changing the proportions of the dainty handles into something that could be worn over the arm, or incorporating a cross-body strap. Swapping out the signature monogram in favor of a textured Epi leather — which was used on the popular Supreme x Louis Vuitton Danube bags — would also give the bag a more sturdy and durable appearance.
Abloh has also shown that he's interested in challenging the boundaries of men's accessories with his Louis Vuitton men's harness, whose inspiration Halás traces back to harnesses from Helmut Newton and Jean Paul Gaultier going back to the 90s and early 2000s. Abloh's harness creations have included small pouches, creating what Halás describes as a "middle space between an accessory, or a bag, and the garment." Abloh's future collections could easily play even more with the harness as a hybrid between an accessory and apparel.
CELINE Phantom
Phoebe Philo's tenure at CELINE (née CÉLINE) produced some of the most ubiquitous handbags of the early and mid-aught, notably the Phantom and Trapeze. While both lack the typical ostentation of luxury bags, the Phantom is easy to spot out of a crowd due to its signature curved seams.
"This could be incorporated into outerwear silhouettes, into suiting, seaming," Wetzbarger says. For a men's style, the curved lines could be repurposed as backpack straps, with its front zipper reimagined as a chest strap to create a harness look. "I think the backpack-harness hybrid is what I'm looking for right now for myself," he adds.
While the Phantom was undoubtedly a huge seller for CELINE, Halás notes the brand's current creative director Hedi Slimane might not be so keen to revisit the Phoebe-era. "I would see him more maybe going to like the really early years of CELINE," Halás says.
But whether he wants to touch Phoebe-era or not, Halás adds that Slimane would do well to develop a signature hardware or monogram for CELINE in order to elevate the brand to the level of Dior, Louis Vuitton or Chanel. Last fall Slimane launched new purses for the women's line that did attempt to establish those heritage details, though it remains to be seen if he can build brand-name recognition around those styles.
But while Slimane has focused his accessories for CELINE on the women's side, there's no denying that his hiring signaled LVMH's interest in beefing up the brand's menswear presence. "When you look at LVMH's portfolio, CELINE was really the only brand that didn't have a men's line," Wetzbarger adds. "To bring in someone who's like a champion of menswear, that's the easy way to double your business." And the demand is already there for men's accessories; in the first quarter of 2019, The RealReal has already seen a 66 percent increase in "CELINE" among bag searches by men.
Though best known for his tailoring, Slimane does have experience in innovative men's accessories. For his Spring/Summer 2004 show for Dior Homme, he sent out models wearing arm band pouches, similar to Abloh's creations for his debut Louis Vuitton men's show. "If [Slimane] came out with that today, it would definitely be ahead [of the curve]," Halás says.
Gucci Soho Disco
Launched in 2014 under the Frida Giannini era, Gucci's Soho Disco is more of a recent classic. Though the Soho Disco still a top seller, Wetzbarger notes it would likely benefit from a re-release in five years or so.
"It's absolutely house of Frida," Wetzbarger says, in contrast to Alessandro Michele's more fanciful take on Gucci. Were Michele to reinterpret the style, he might swap out the leather for embellished velvet. And while Gucci has released the Soho in larger satchel and shoulder bag versions as well as the more ubiquitous Disco, under Michele's vision it could easily be turned into a waist bag, which continue to be popular among male customers.
Though waist bags have been trendy for many seasons (The RealReal notes that searches for Gucci waist bags by men have increased by 150 percent in the first quarter of 2019), many male customers are still snapping up new backpacks, with The RealReal finding backpacks are the number one bag style for male customers for 2019 thus far. Gucci released the Soho as a backpack for women with chain link straps, but has yet to include the style for it's men's line. A version of the backpack with sturdier straps and materials, like a pebbled leather, could prove popular among men looking for a staple backpack. Of course Michele isn't one for a simple backpack, and would likely add embroidery, colorful stitching and playful embellishments to the sleek Soho silhouette.
But Halás observes that though Michele has brought a new look to Gucci as creative director, he's been at the brand since the early 2000s working alongside Giannini and her predecessor Tom Ford; his DNA has been there all along. "He has brought back some designs inspired by the Tom Ford-era pieces that he worked on," Halás says. "So I don't think it would be too far fetched for him to pull something again that he had worked on."
Click here to view full gallery at HYPEBEAST