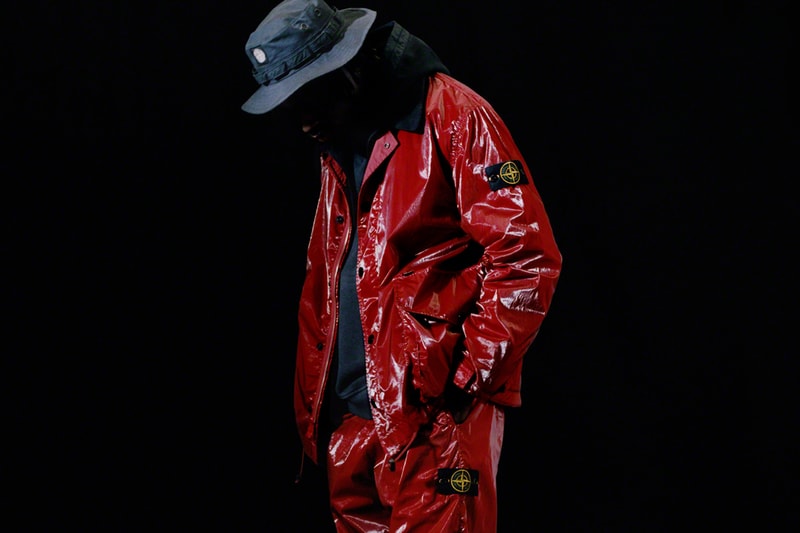 Supreme's latest collection with Stone Island was unveiled yesterday and the ongoing range has already garnered strong reactions. The jacket company is known for its loyal fanbase, which means that pleasing them can be a difficult task.
So, to see what they thought of the latest iteration of the ongoing collaboration, we spoke to several experts, including designer Kenneth McKenzie of 6876, Neil Summers, co-editor of Proper Magazine, Andres Branco of Wavey Garms and Archie Maher from Stone Island Archival Specialist store Arco Maher.
What did you think of the collaboration overall?
Kenneth McKenzie, 6876: I liked it more than some of the previous ones which just felt more of strategic alignment rather than interesting project.
Neil Summers, Proper Mag: I think it's the best one to date, it feels heavily influenced by archive pieces and less reliant on collaborative logos. I feels like they've made a much more wearable collection that will appeal to the old school collectors as much as the new generation of S.I. fans.
Andres Branco, Wavey Garms: I personally think it's their best collab to date, the way they have done it is very sleek and stylish — not overly heavily branded with Supreme branding. I think this will work in their favour because people like me who wouldn't wear Supreme but who has always loved Stone Island may have to cop something as the original is so hard to find.
I wish Stone Island would allow letting them do remakes of certain jackets as its so annoying I'm gonna see little Tarquins from Hampstead rocking the Stone Island Raso Floccato Riot Mask Jacket thinking he's well hard!
"The two teams understood the importance of revisiting Stone Island's rich history to those who meticulously study Massimo Osti's body of work."
Archie Maher: I think the collaboration was executed really well. A number of iconic Stone Island design concepts were used. It shows the two teams understood the importance of revisiting Stone Island's rich history to the ever growing, wider audience who meticulously study Massimo Osti's body of work. This is without a doubt the best collaboration between these two forces to date – perhaps I'm slightly biased in saying so as my love for the '80s/'90s era will always prevail!
Where there any pieces you were surprised to see in the range?
Kenneth McKenzie: Nylon Tela glossy laminated polyurethane & garment dyed garments are so classically S.I. it was a little surprising to see it featured here.
Neil Summers: I didn't expect to see Silk Light making an appearance albeit in the form of 'New Silk Light', it's nice to see a 1980s reference instead of a 1990s one!
Andres Branco: Not really. They chose two of Stone Island's most sought after jackets and the utility vest. I knew the toffee wrapper jacket was gonna make a come back — all fashion designers are using shiny plastick-y materials at the moment, so it was only natural for this to happen. I wasn't expecting to see toffee wrapper trousers though!
Archie Maher: I had longed to see Supreme produce a number of these pieces for this highly anticipated collaboration, so I was pleasantly surprised to see they had pinpointed the tremendous Silk Light Jacket as their hero piece. Alongside this, they've included a real classic in the form of the "Riot Mask/Sniper" Jacket.
What were some of the references you noticed in the collab?
Kenneth McKenzie: Pretty classic S.I. but as in previous comment very much referencing what many see as core to the brand in the past in terms of fabrication.
Neil Summers: I can see the archive all over this collection, especially the vests and the bags, it's very 'Massimo Osti at his best' in my opinion.
"Not having heavy branding will work for someone who wouldn't wear Supreme but who has always loved Stone Island."
Andres Branco: It looks like the mixed the Raso Floccato riot mask jacket with similar material to an '80s ice jacket.  Obviously the toffee wrapper jacket is a straight bite from their glazed silk collection. I can see they used the skeleton from a 1995 utility vest but have placed the badge on the front breast.
Archie Maher: In previous collabs we've seen a handful of quintessential Osti designs being referenced with the 80s Raso Gommato "Helicopter" Jacket & the Heat Reactive products but this year they've referenced one of my favourites jackets; The Glazed Silk Light, commonly known as the "Toffee Wrapper" Jacket first produced in 1992! With the striking glossy appearance, a boxy relaxed cut & deep front hem pockets as well as the detachable inner lining this jacket triumphs over most.
The "Cargo Vest" shows great reference to the 1995 Formula Steel Vest construction with a multi-pocket design, zip options at upper chest & the stretch tape detailing at shoulders. The "Riot Mask" Jacket is closely inspired by the 2005 Raso Floccato Jacket with the velcro attachable face panels & cap beak feature to form a masked appearance. I have all these iconic pieces stored in the "Arco Maher Archive" so I look forward to closely comparing all of them!
What were your favourite pieces?
Kenneth McKenzie: Camouflage Jacket and dust coloured garment dyed sweats.
Neil Summers: Hard to pick a favourite as I love it all though the dust camo duffel bag is particularly astounding.
Andres Branco: 100% the black toffee wrapper jacket, I would feel like the guv'nor in that. The trousers are very cool but a bit O.T.T. for me. I also loved the hoodie and shorts two-piece, very simple but still proper wavey. Not many brands bring out the hoodie and shorts combo, deffo a certy summer look!
Archie Maher: The "Cargo Vest" is a winner for me. Its design origin lies in the Formula Steel vest construction is a remarkable model. The new approach sees brushed cotton textures & the embroidered compass spellout to centre of back as well as the popular camouflage print. These elements were often featured in the late '90s & early '00s – commonly seen in overshirt & jersey models. Additionally the "Canvas Backpack" works very well; it touches on the 2003/2004 "Sack Bag" approach with great reference to the 80s Marina bags which were advertised with the canvas sailing shoe range.
Did you dislike any of the pieces?
Kenneth McKenzie: Not really but some of the branding i'm not sure is that necessary but then its not aimed at me!
Neil Summers: No it's all good, my only negative feelings are that every piece will sell out in nano-seconds.
Andres Branco: I personally liked everything apart from the cap, that shape is really out-dated and doesn't look good on, but fair play they done alright on this one.
Archie Maher: All in all, there's no pieces that I really dislike; I suppose the "Dust Colour Treatment" items don't jump out at me in the same way as others do but these items stay in line with the more recent Stone Island development which still works nicely! I think the two brands have managed to pinpoint & showcase some really iconic pieces. They've then taken this further by updating the materials & properties of each piece, which for me is the essence of a well accomplished collaboration.
Click here to view full gallery at HYPEBEAST