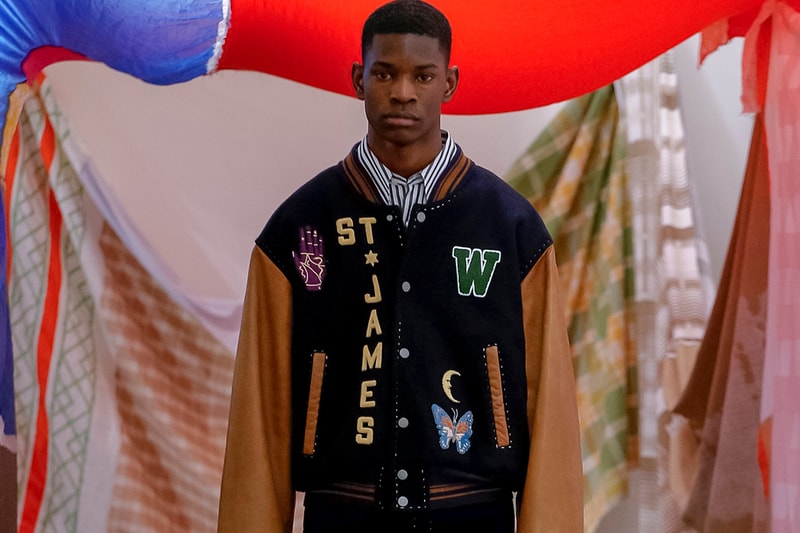 Wales Bonner's Fall/Winter 2019 collection has debuted during London Fashion Week, and with it comes a strong sense of understanding for African spirituality and mysticism, according to Vogue.
The ready-to-wear collection highlighted specific details by designer Grace Wales Bonner with acknowledgement as well as subtle hinting towards her African roots — references to poet Ishmael Reed set a tone for the collection that mixed both African design elements with university aesthetics. Varsity chenille embroidery, baggy fits, extra-long sleeves and the like all make solid appearances during the show.
The designer remarked on her specific collegiate influences:
"I was inspired by black intellectual dress at Howard University, the first black university, and I started looking through a lot of yearbooks and identifying a lot of items, like a mac or a varsity jacket, and a specific type of wider tailoring. So it's actually quite American, but then I'm trying to imbue this classic framework, but with this sense of magic that comes from another place. Voodoo jewelry feathers."
Along with Reed's musical contribution during the runway show, Nigerian poet and novelist Ben Okri also read a new work exclusively for Wales Bonner show, further cementing the African heritage spirit within her collection. However, according to Vogue, the "intellectual background" isn't a necessity to appreciate Wales Bonner's influence. "It's not even about knowing something. It's more about if you can feel something," stated Bonner.
View the looks above and read up on two other menswear designers that deserved their spotlight during this season's London Fashion Week.
Click here to view full gallery at HYPEBEAST