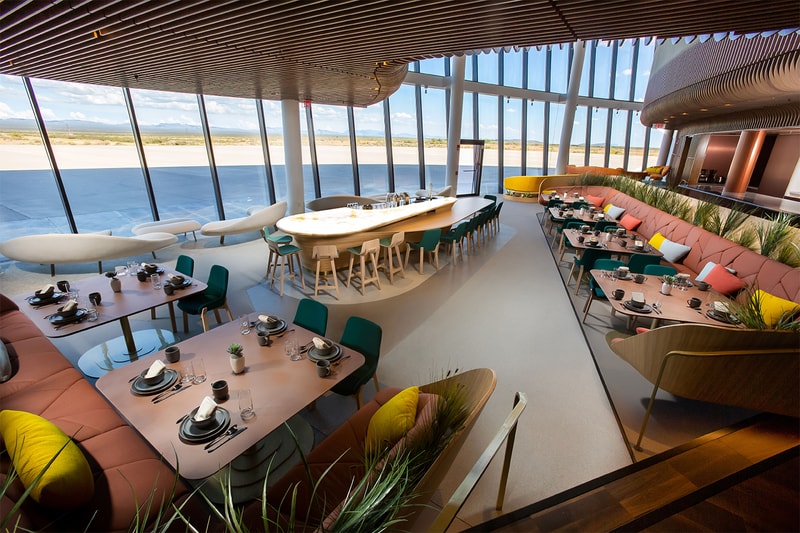 Virgin Galactic has just unveiled its "Gateway to Space" commercial space port. The 670,000 sq-ft facility sits on 18,000 acres of State Trust Land in New Mexico, and will be the departure site for all future astronauts that sign up for Virgin Galactic's spaceflight services.
Designed by Foster + Partners, Gateway to Space is a two-story structure that first sees the Gaia lounge (representing departure and return) which features furniture and fittings that promote human interaction — meant to connect fellow passengers as they embark on their historic journeys. The second floor, named Cirrus (representing light, air and flight), is where the operations take place. This area takes on a more sterile look, and is meant to compliment the story of space travel — where Gaia's earthy tones are a nod to the ground and Cirrus' white and grey shades at the second floor are meant to represent the clouds in the sky.
The entire facility is equipped with the latest technology, making full use of the surrounding location while respecting the ancient landscape. The facility is highly energy efficient and promotes sustainability. Catch the visual tour in the photos and videos provided, and expect Gateway to Space to be fully operational with Virgin Galactic's initial launch in 2020.
In other news, the new Apple iPhone 11 leak suggests fourth color and new storage specs.
Click here to view full gallery at HYPEBEAST