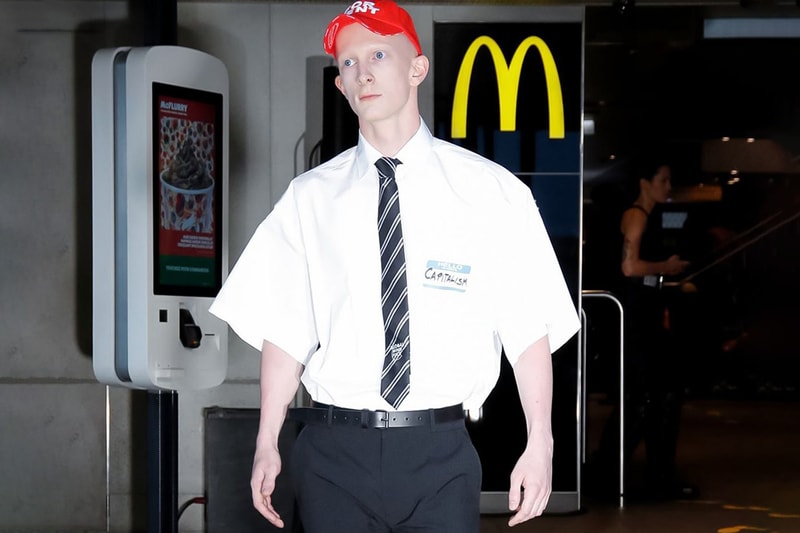 Though Demna Gvasalia's time at Balenciaga has yielded eye-popping revenues for the once-struggling luxury house, little is known about the financial state of his first independent fashion effort, Vetements. Not to say that the label isn't rich with ideas, however, as Spring/Summer 2020 demonstrated: the presentation was held inside a Parisian McDonald's, complete with themed outfits.
Teased with branded condom invitations, Vetements' latest show saw models stalking the restaurant aisles in between seated guests, as oversized reinterpretations of security guard uniforms and manger outfits kicked things off. The collection then transitioned to territory slightly more in line with Vetements' oeuvre, with enormous leather coats, thigh-length shirts and gargantuan blazers worn by AirPods– and french fry-toting models.
Skin-tight faux-tattoo leggings, duvet coats and baggy, reworked denim all made their way through the restaurant — standout pieces included slogan hoodies that read "NOBODY EVERYBODY ANYBODY SOMEBODY" and featured a referential "PAYSTATION" graphic, followed by an Internet Explorer logo above "ECSTASY." Underlining the motif were small name tag stickers worn by models, hand-scrawled with "CAPITALISM." Indeed, this show represents Gvasalia and co. taking on American over-indulgence, complete with sloppy flip-flops, exuberant colors and the plentiful logos. The venue wasn't just a social media lightning rod (though it certainly will be talked about), but a purposeful choice to drive home the message of cautioning against greed and gluttony, two aspects that sit neatly alongside the fasion industry.
Check out Vetements' latest runway show above.
https://hypebeast.com/2019/6/vetements-the-pirate-bay-hoodie-release
Elsewhere in Paris, Dries Van Noten hosted a '70s-themed, flower-rich runway show.
https://hypebeast.com/2019/6/balenciaga-fall-2019-collection-lookbook
Click here to view full gallery at HYPEBEAST