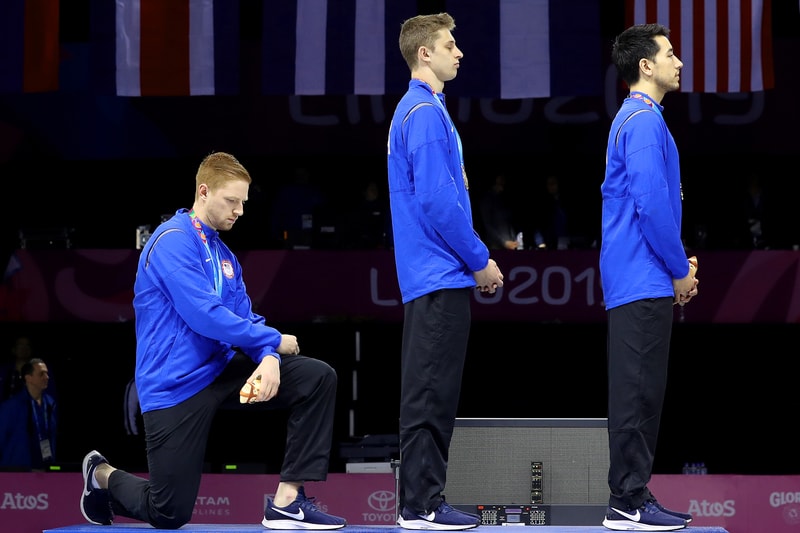 In less than a year, the world will be watching as the greatest athletes from around the globe compete in the 2020 Olympic Games being held in Tokyo, Japan.
However, future Olympians have already received a fair bit of warning should they decide to protest during the event, as reported by The New York Times. During the recent Pan Am Games held in Lima, Peru, two athletes, fencer Race Imboden and hammer thrower Gwen Berry, protested during the national anthem and are now placed on 12 months probation. Following the act, American athletes have now been warned by Team USA chiefs that they will face "consequences" if they stage political protests at next year's games.
AP news agency obtained a letter that was sent to both Imboden and Berry, in it US Olympic and Paralympic Committee chief executive Sarah Hirshland said she "respected" the athletes' perspectives but disagreed with the "moment and manner" in which the pair aired their views. Hirshland continued, "It is also important for me to point out that, going forward, issuing a reprimand to other athletes in a similar instance is insufficient. We recognize that we must more clearly define for Team USA athletes what a breach of these rules will mean in the future. Working with the [athletes and national governing bodies], we are committed to more explicitly defining what the consequences will be for members of Team USA who protest at future Games."
Berry took to her Twitter account to share, "Somebody has to stand for all of the injustices that are going on in America and a president who's making it worse. It's too important to not say something," while Imboden said he chose to "sacrifice his moment to call attention to issues" that need to be "addressed."
The 2020 Tokyo Olympics will be taking place right in the middle of a US presidential campaign. Let us know your thoughts in the comment section below.
In more sports-related news, Nike is extending policies for pregnant athletes, waiving pay reductions for 18 months.
"If nothing is said, nothing will be done, & nothing will be fixed, & nothing will change." pic.twitter.com/v7A6vMaJGd

— Gwen Berry (@MzBerryThrows) August 21, 2019
We must call for change.
This week I am honored to represent Team USA at the Pan Am Games, taking home Gold and Bronze. My pride however has been cut short by the multiple shortcomings of the country I hold so dear to my heart. Racism, Gun Control, mistreatment of immigrants, pic.twitter.com/deCOKaHQI9

— Race Imboden (@Race_Imboden) August 10, 2019
Click here to view full gallery at HYPEBEAST