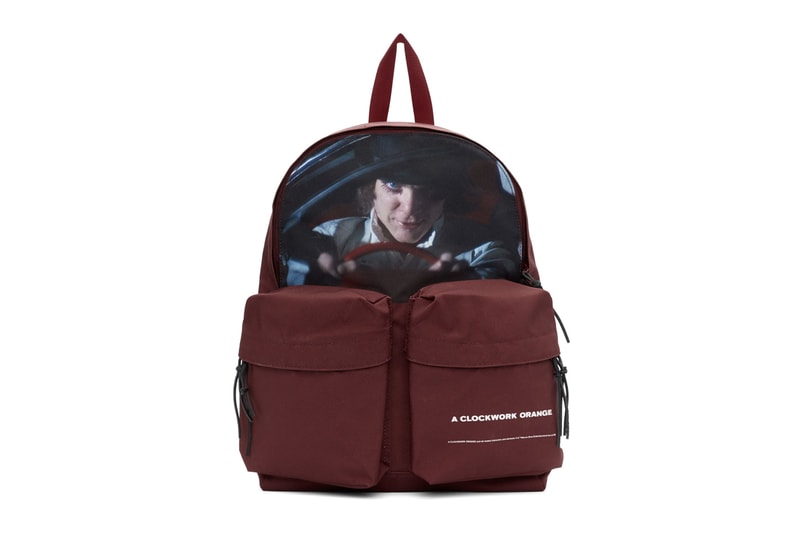 After collaborating with Valentino on its Garavani Climbers Sneakers, UNDERCOVER has returned with a quartet of backpacks, emblazoned with a bevy of prints that reference Beethoven and Stanley Kubrick's 1971 classic A Clockwork Orange.
Featured are a set of bags paletted in yellow, red, burgundy and navy, each constructed with twin pockets at the front and a large compartment at the top. The first bag comes tinged in bright yellow, with contrasting black straps and pull tabs. "Ludwig Van Beethoven" and "Symphonie Nr.9 d-moll, op.125" are printed near the top, while a sketch of Beethoven's portrait is placed over the front left pocket (an important soundtrack to the film reflecting the main character's psychological state).
The red backpack is kept minimal. Besides its bold canvas base, the words "A Clockwork Orange" are printed in white at the front. Next up is the burgundy-toned bag, which comes with grey straps and silver-tone hardware. A large graphic of Alex, the main villain from the film, is placed at the top, complimented by white text on the left pocket. The navy bag is the most visually striking, covering the entire front of the bag with a scene from the movie – dark silhouettes of Alex and his crew of "Droogs" can be seen walking behind bright lights.
You can check out the bags in the gallery above. All four bags are currently available at SSENSE.COM, with prices ranging from $555 to $705 USD.
Elsewhere, HUMAN MADE and Girls Don't Cry continue their collaboration with the latest "1928 Kyoto" capsule.
Click here to view full gallery at HYPEBEAST