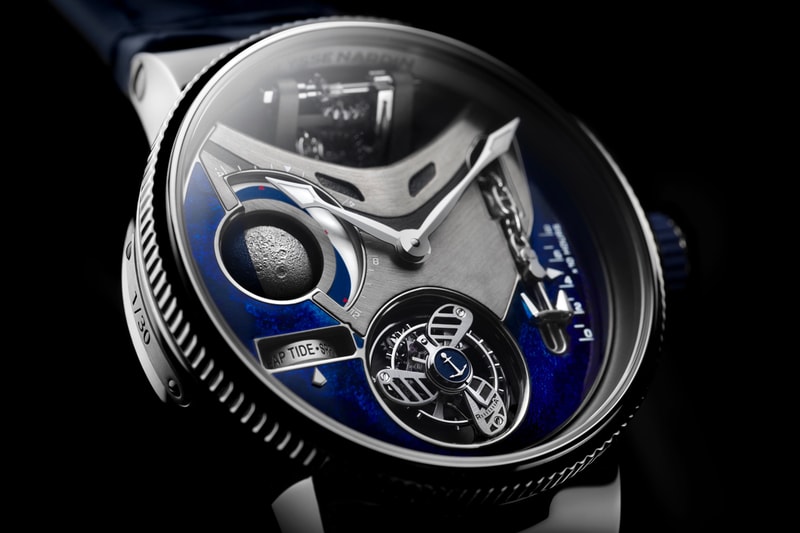 2016 saw Ulysse Nardin celebrate sailboats and luxury liners with its Marine Grand Deck Tourbillon. Now the illustrious watchmaker is back in 2019 with an impressive watch that embodies the superyacht. Much like the world of megayachts, the watch speaks of extravagance, and at the same time is a feat of engineering.
Constructed out of platinum, the 44mm watch features "grand feu" enamelling that's said to mimic a ship's bow cutting through the sea, creating a wave of foam. Nautical references are scattered throughout the watch, and worked into the complications — seen in the propeller blades on the flying tourbillon, the 8-day anchor power reserve indicator, windlass chain winding system, and Chadburn Telegraph-like adjustment window.
The most impressive part about this watch can bee seen on the left of the dial, near the nine o'clock position, where a three-dimensional moonphase indicator, tide indicator, and tide height indicator are all present. Ulysse Nardin explains how to set this ultra-complicated function:
Its adjustment in relation to the annual calendar is undertaken through the winding-crown. A telegraph window opened in the side of the watch-band indicates its position (S: Set position for setting the hands/TM: Tide and Moon position/W: position for winding the movement). In the intermediate position, the Moon phase and tide volume indication is regulated by turning the crown counter-clockwise (one turn of the crown represents four days), while in the clockwise direction the operator regulates the level of the tide depending on his location (one turn of the crown represents a 0.25 turn of the disk, equivalent to 9.5 hours).
If you can afford a superyacht, you may be able to afford this watch as the Ulysse Nardin Marine Mega Yacht sells for $310,000 USD, and will only be available to 30 lucky captains.
In other watch news, URWERK presents the UR-105 CT "Maverick" in bronze.
Click here to view full gallery at HYPEBEAST