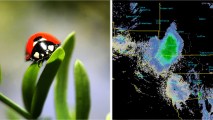 Though it looked like the San Diego region was about to be drenched in a soggy downpour, it was actually something sort of magical. A giant swarm of ladybugs making its way across the National Weather Service…
Photo Credit: David McNew/Getty Images National Weather Service
This story uses functionality that may not work in our app. Click here to open the story in your web browser.
Source: NBC Southern California – Southern California News – HEATHER NAVARRO