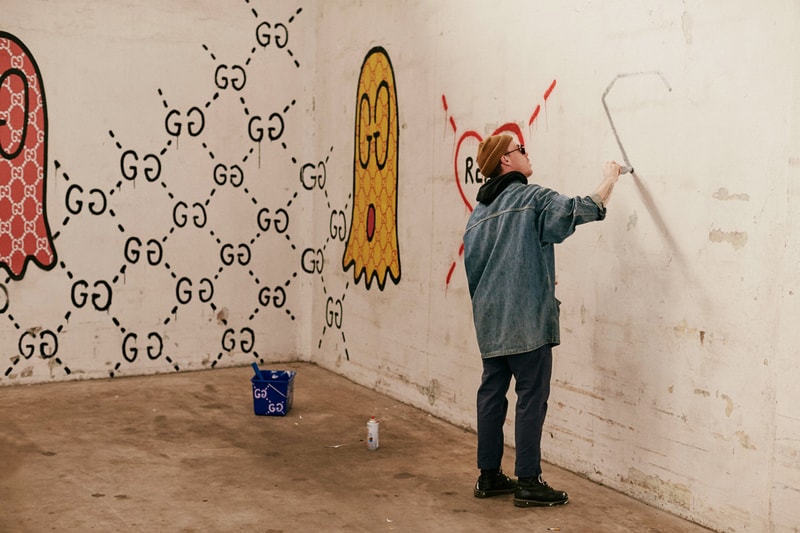 Comic artist Andrew "Drew Toonz" Miller is joining Trevor "Trouble" Andrew, also known as GucciGhost, for an exhibition celebrating their longstanding collaborative friendship. Titled "Comics & Nonsense," the show will take place at HVW8 Gallery in Los Angeles.
United by a desire to blend high and low fashion culture, Trouble and Drew Toonz have teamed up to create new works that comment on the world through a comical perspective. The exhibition will include a co-authored full-length comic book "No Work City" which features the adventures of Emo Cat and Trouble Andrew. The characters must battle different situations in a whimsical and intricately detailed world inspired by Trouble and Drew's own toys and vintage comics.
Trevor Andrew's 'Life is Scary Sometimes' painting depicts a shocked 'Casper the Friendly Ghost,' in a recognizable GucciGhost print, who has just realized that the egg he is cooking has turned into a UFO and is taking off out of his frying pan. The six-colored screenprint will be available to purchase at HVW8 on opening night and on the gallery's online shop starting August 31 at 1 p.m. EST.
"Comics & Nonsense" will be open to the public from August 30 to September 1.
In other news, check out the first-ever Korean Media Art Festival in New York City's SoHo district.
HVW8 Art + Design Gallery
661 N Spaulding Ave
Los Angeles, CA 90036
Click here to view full gallery at HYPEBEAST