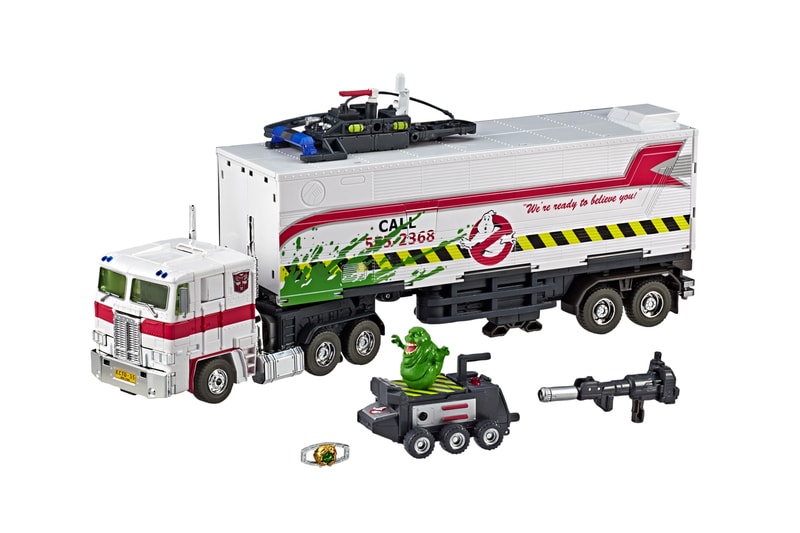 Over the years, the Transformers franchise has appeared in a wide array of entertainment mediums, like Netflix' upcoming Transformers: War for Cybertron. In celebration of its 35th anniversary, the franchise is collaborating with Ghostbusters, which also happened to release 35 years ago – unveiled is the Transformers x Ghostbusters MP-10G OPTIMUS PRIME ECTO-35 toy set.
Hosted by NTWRK, an online retailer that offers episodic video content to promote its products, the figure set comes with a one-day special program that tours the Ghostbusters Fan Fest; a one-on-one interview with actor Ernie Hudson is part of the exclusive episode.
The MP-10G OPTIMUS PRIME will mark the first-ever co-sign between Transformers and Ghostbusters. Standing at 9.5 inches tall in robot form, the figure is painted in white, red and black, with subtle touches of green, a nod to the thematic colors of Ghostbusters. The figure can be folded into truck-mode in 26 steps, where the Ghostbusters logo can be seen at the head of the truck. Another piece that comes with the set is the Ecto trailer, decorated with black and yellow hazard stripes and slogans like "We're ready to believe you!" and "CALL 555-2368." Transforming into an Ecto-Base, the trailer opens up for an Ecto Maintenance Deck. Other pieces in the set include a Ghost Trap, Roller and Slimer accessory.
The MP-10G OPTIMUS PRIME ECTO-35 Edition will be available for $150 USD at the upcoming San Diego Comic-Con International, taking place from July 18 – 21.
In other related news, check out LEGO's rendition of the iconic 1974 Porsche 911 Turbo 3.0.
San Diego Comic-Con International
San Diego Convention Center
111 W Harbor Dr
San Diego, USA
Click here to view full gallery at HYPEBEAST