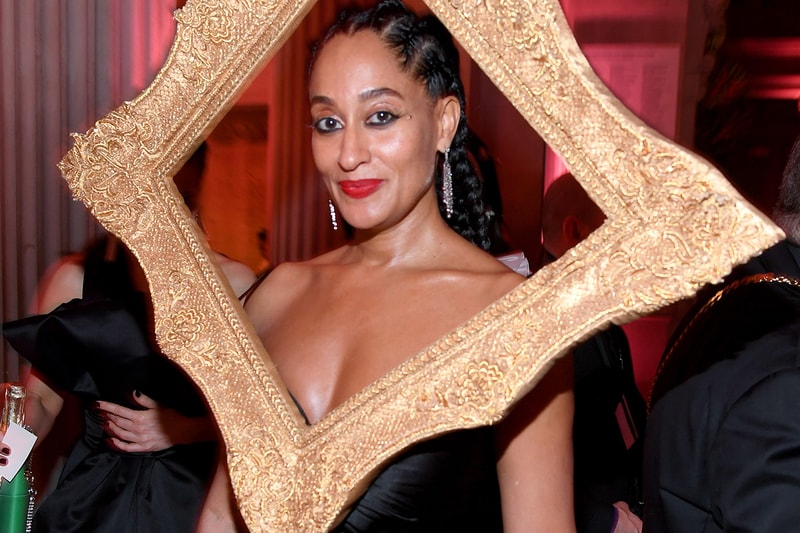 Leave it to Tracee Ellis Ross to show us how to do camp. At the 2019 Met Gala last night, the actress went all out for the theme "Camp: Notes on Fashion," arriving on the red carpet in a custom Moschino couture piece that sees a picture frame playfully attached to her black tie-appropriate gown. If the essence of camp is to "either be a work of art, or wear a work of art," then Ross has surely scored full marks with her Mona Lisa-esque outfit.
Besides attracting occasional photobombers, Ross' picture frame has also made us stop and admire the stunning makeup look that goes inside of it. We've caught up with Ross' makeup artist Matin to learn how exactly the Met Gala glam was created. Read on for all the deets, and in case you haven't seen them already, take a look at the campiest 2019 Met Gala red carpet looks, over-the-top makeup and hairstyles as well as after-party outfits spotted on your favorite celebrities.
Matin
What is the overall mood you attempt to evoke with Tracee's glam tonight? What is the main focus of this look?
As Tracee was basically going as a work of art with her face framed, we wanted to keep the look fun and pretty to match her over-the-top campy dress. Tracee is one of those clients that really go there — thank God I didn't have to do another smokey eye!
She sent me a photo of a fish eye created with feather lashes as inspiration for her look. To recreate our own version of this, I used the longest false lashes I could find and started from the outer corner and worked my way to the middle of her eye, cutting the lashes smaller as I progressed. To keep the shape, lashes were only applied to the upper middle and full bottom lash lines — no mascara.

What products did you use to achieve this makeup look?
In addition to Kosas' Tinted Face Oil, and as a nod to my background, we created an Egyptian eye created with soot that I make myself. We then used the soon-to-launch (June 2019) 10-Second Liquid Eyeshadow in a shade similar to her skin tone that was still able to provide a shimmer and gloss effect. For the cheeks, I applied the Kosas Helios Color & Light Palette to her cheeks and cheekbones followed by a pop of pink from Kosas' 8th Muse Color & Light Palette. The lips were a custom Kosas Weightless Lip Color in the shade Catalyst. Tracee loves a matte, red lip and this was perfect for her bold, pop of color.
Kosas Tinted Face Oil, available at Nordstrom for $42 USD
Kosas Weightless Lip Color Lipstick, available at Sephora for $28 USD
What is the key to creating the perfect base that looks flawless even when facing an onslaught of camera flashes?
We wanted gorgeous glowing skin without looking shiny — skin that caught the light and looked perfect from every angle. I always layer my glowy products to ensure a natural, glow from within look. I start with a heavy moisturizer from Lancer and let it sink into her skin, then followed with a face oil for an extra glow and blotted away the excess before foundation to ensure she was glowy, not oily. After adding a few hidden golden shimmers on the high points of her face, I applied Kosas' Tinted Face Oil in #8. Tracee loves this product as it looks like skin, not makeup, and is lightweight.
Click here to view full gallery at HYPEBAE