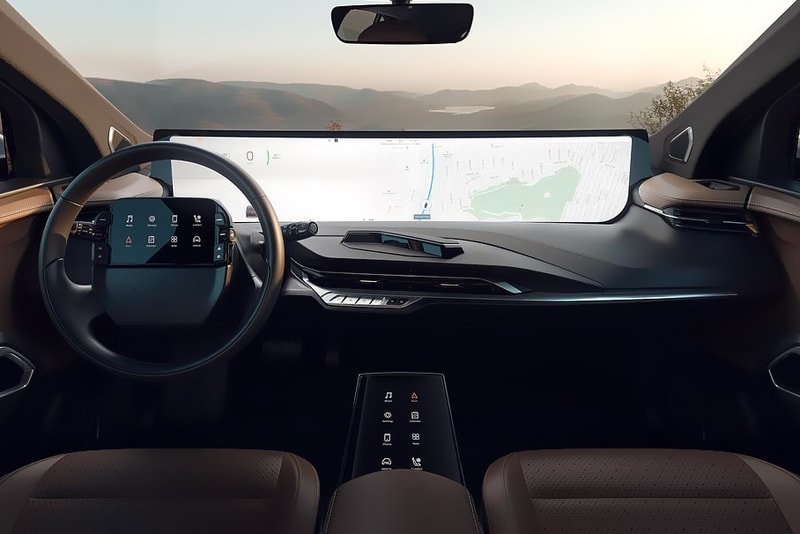 Chinese-based EV company Byton is well aware of the current era's focus on big screens and easily accessible media — so much so that its incorporated arguably the largest screen ever seen in a vehicle for its upcoming M-Byte SUV. The rather intriguing Tesla competitor totes a mammoth-sized 48-inch screen across the dashboard, which is both gesture-controlled and Baidu-enabled. But the manufactures didn't just stop at one screen, implementing another 8-inch screen on the steering wheel, another between the driver and passenger seats, and optional add-on screens on the headrests for backseat passengers to utilize.
The company is conscious of the current user-experience surrounding newly-developed vehicles, and have made a uniquely custom interface that's able to sync with its mobile app. CEO Daniel Kirchert stated at its U.S. headquarters in Santa Clara that they envision the car as being another part of daily tech, envisioning it as if it was a second phone, "you won't be even tempted to take out your device," he said cheekily. The unique interface implements a user-tailored experience, allowing for navigation, reading texts and emails, getting restaurant or movie time information, and more.
However, this isn't just a one-of-a-kind deal — the new wave of consumers are here and many car manufacturers are taking note. Toyota recently embraced Android Auto, Netflix-esque service HOOQ implemented ad-filled trivia games in Southeast Asian Grab cars, Cargo's partnership with SeatGeek in Uber rides, IBM's recent partnership with Harley-Davidson's newly revealed electric motorcycle, Honda's recently revealed backseat entertainment platform, and even Audi collaborating with Disney to spotlight car-based VR entertainment. The new wave is undoubtedly here — but whether or not it's safe is the only question that really remains.
Take a look at the upcoming Byton M-Byte SUV above, and let us know your thoughts on the new automotive trend.
For more related news, Tesla updated its vehicle series with Dog and Sentry modes.
Click here to view full gallery at HYPEBEAST